All you need to know about Our Queer Arts & Crafts Fair plus more….
We have a host of super amazing Crafters and Business from around Ireland lined up for you at our 'The Queer Market – Crafts Fair' at The Outing Festival, Valentines weekend 2023. We will be introducing you to them all below…
Yvonne Costelloe
Psychic Medium, Spiritual Healer, Tarot Angel Fairy, Oracle Cards, Palmistry Crystal Ball, Candle Magic Crystals, Mindfulness, Law of Attraction, Keylontic Science, Psychic Laser Surgery, Access Consciousness, Reiki Master, Indian Head Massage, Colour Therapy, Feng Shui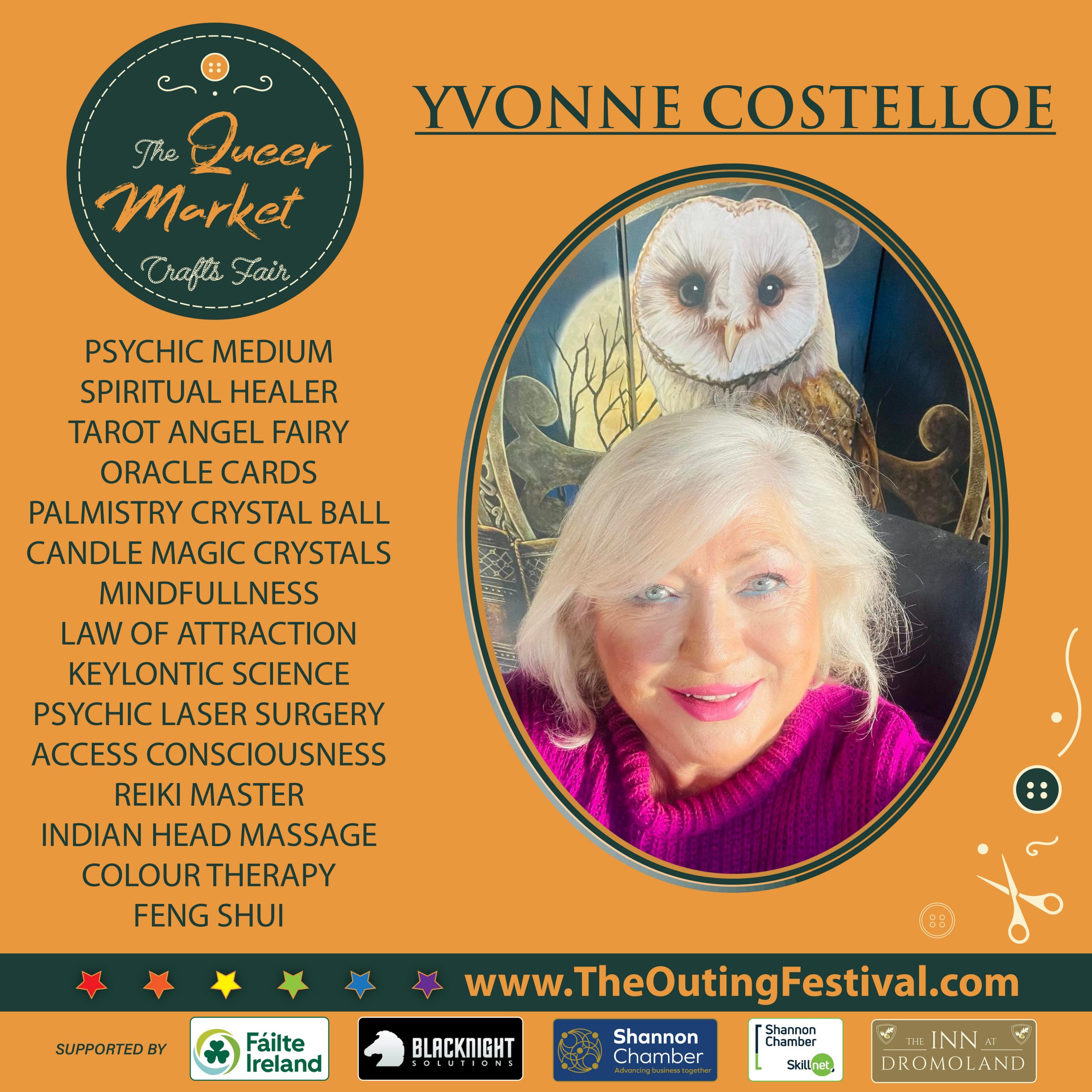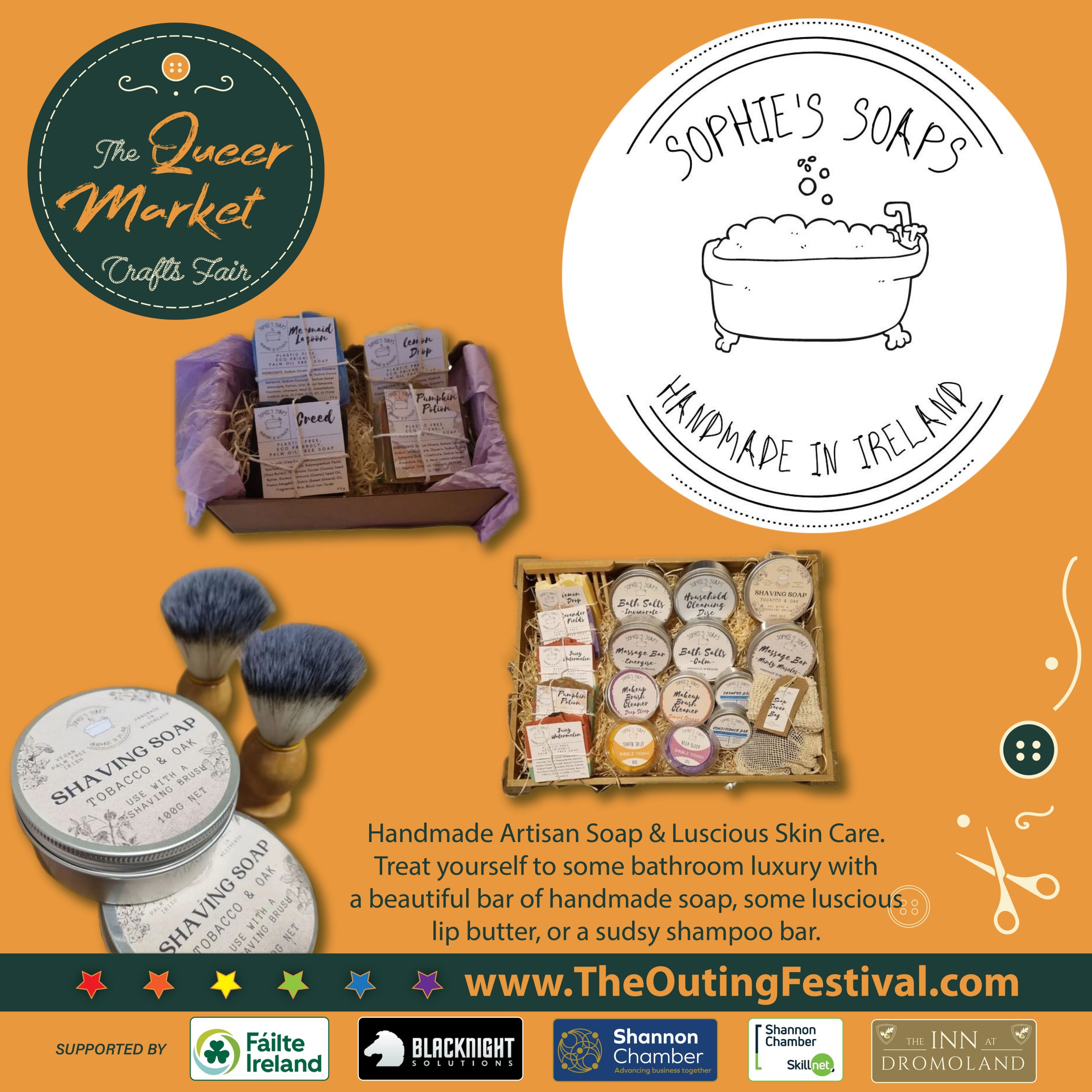 Sophies Soaps
Handmade Artisan Soap & Luscious Skin Care. Treat yourself to some bathroom luxury with a beautiful bar of handmade soap, some luscious lip butter, or a sudsy shampoo bar.
Rosie Bags & Accessories
Unique hand crafted ladies bags and home decor from the Medieval City of Kilkenny, Ireland. Treat a loved one to a precious gift that they will treasure forever. Browse through our ladies handbags for stylish models that you won't see in a usual high street retailer or why not treat yourself to something colourful & vibrant from our gorgeous range of home decor. We pride ourselves in creating handcrafted bags that are beautifully decorated with gorgeous animations and caricatures to bring a funky vibe to each bag.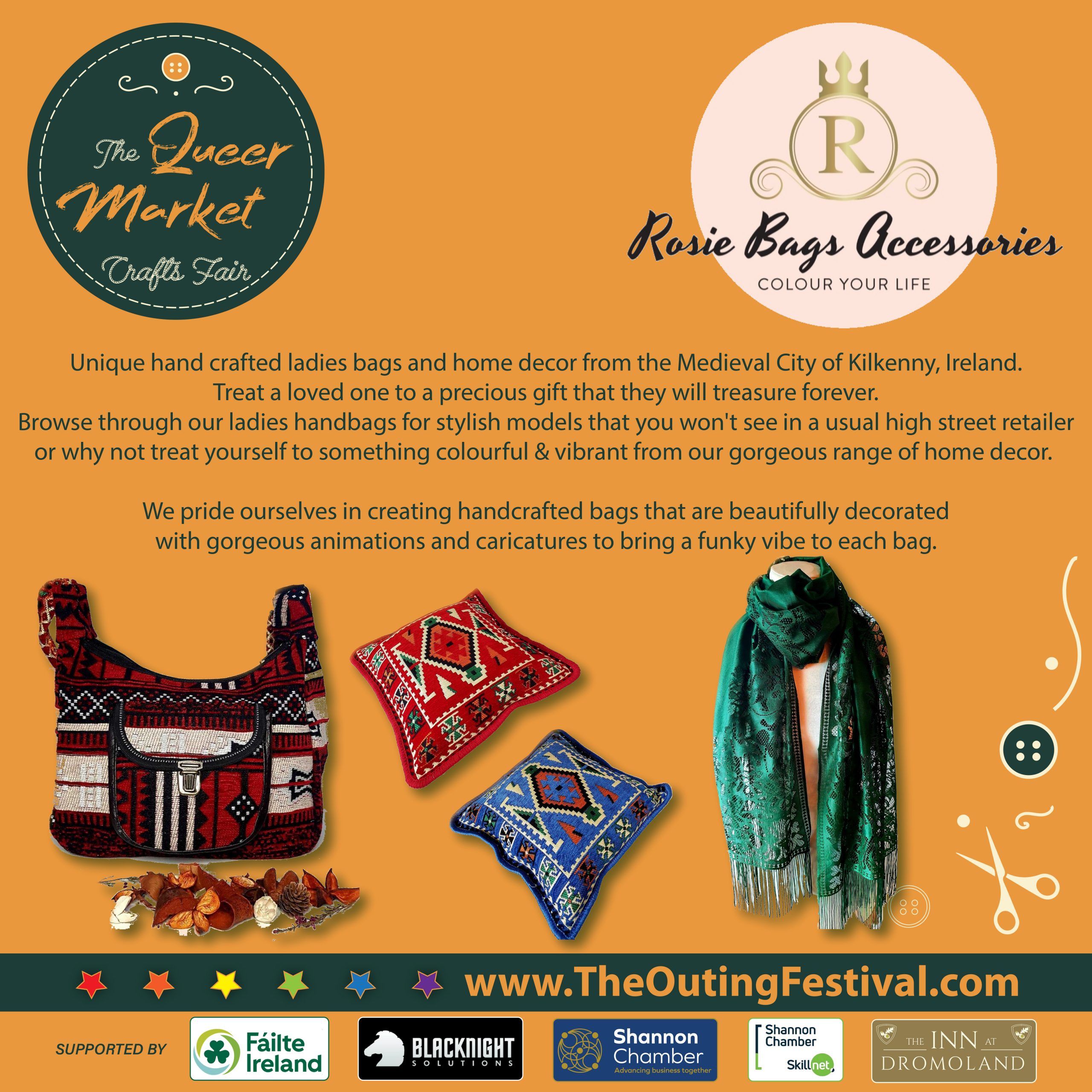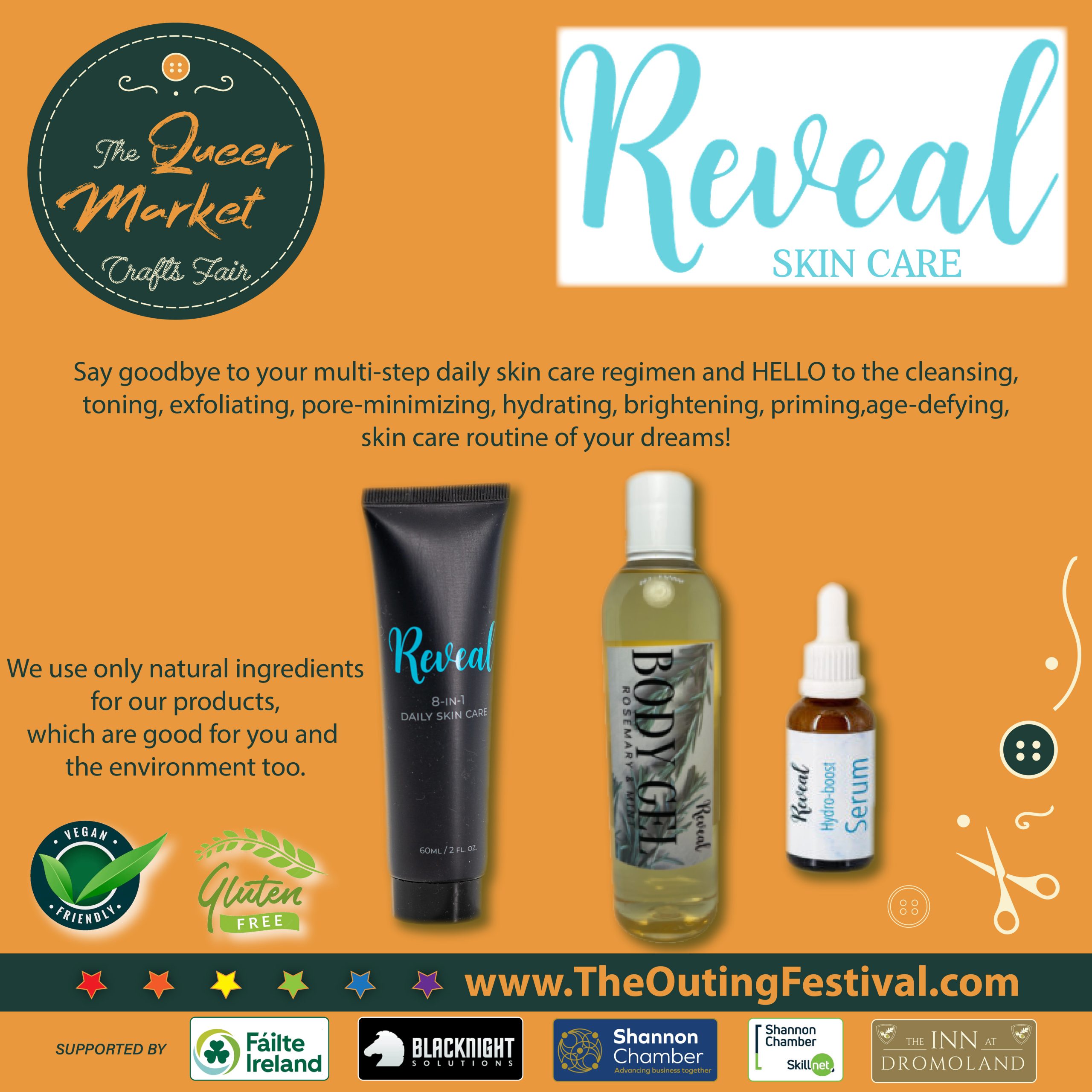 Reveal Skin Care
Say goodbye to your multi-step daily skin care regimen and HELLO to the cleansing, toning, exfoliating, pore-minimizing, hydrating, brightening, priming,age-defying skin care routine of your dreams!
Kaidean Aromas
Explore our collection of hand-poured vegan wax melts. We use only soy wax. Our fragrances are vegan friendly. Most of our materials are sourced within Ireland. Our artisan designers uniquely make every item to bring a beautiful scent to any indoor space. Our wax melts are highly scented.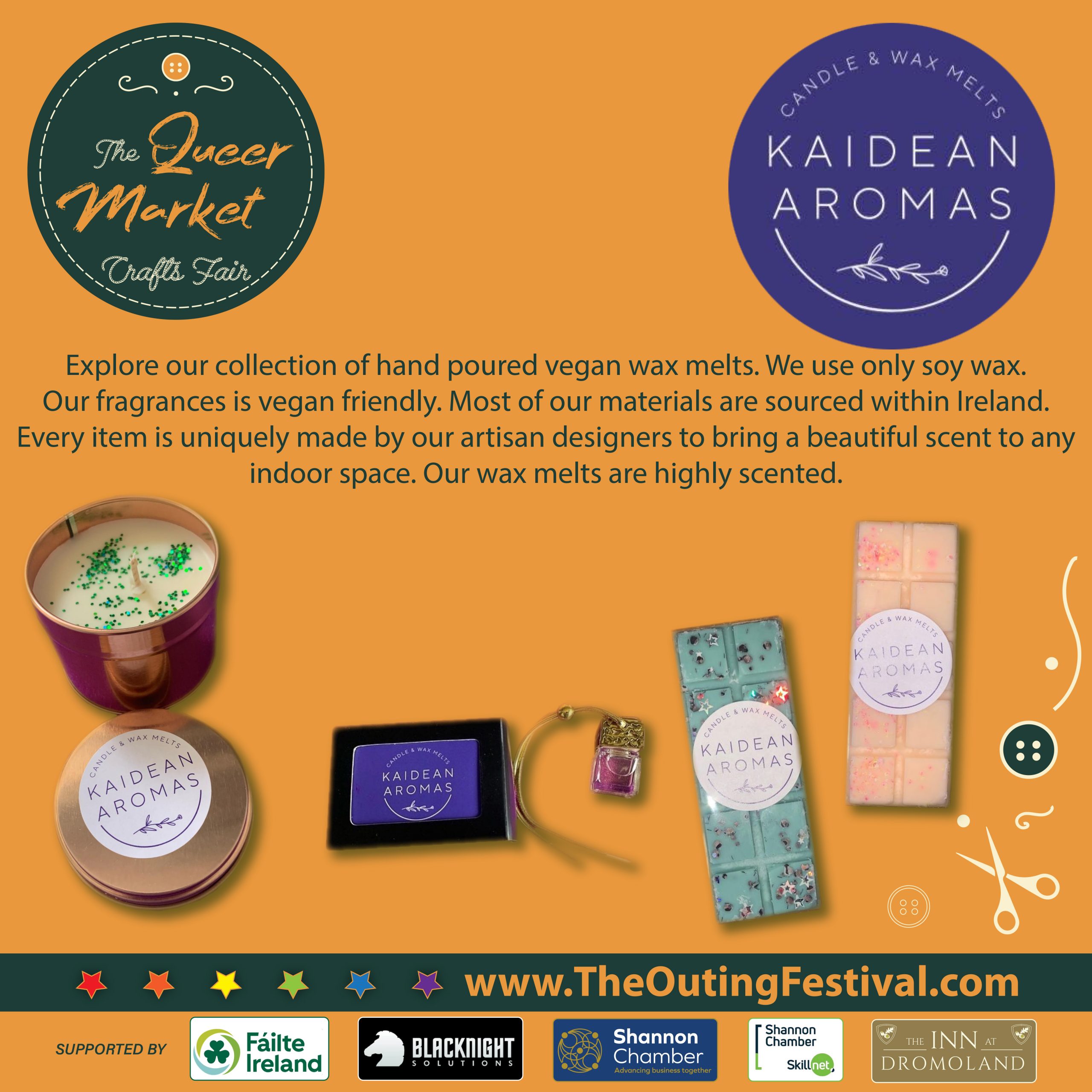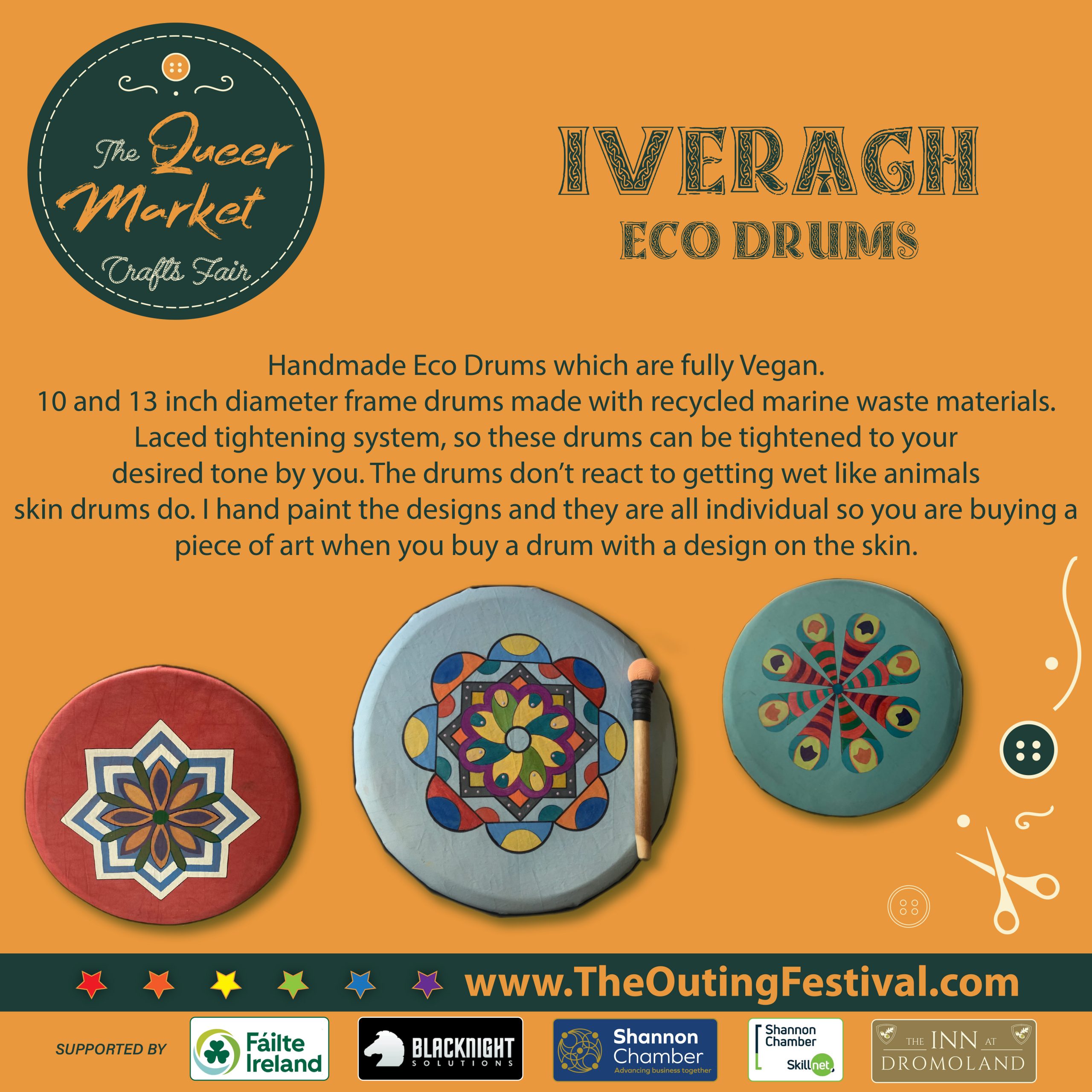 Iveragh Drums
Handmade Eco Drums, which are fully Vegan. 10 and 13-inch diameter frame drums made with recycled marine waste materials. The laced tightening system so that these drums can be tightened to your desired tone by you. The drums don't react to getting wet like animals' skin drums. I hand-paint the designs, which are all individual, so you buy a piece of art when you buy a drum with a design on the skin.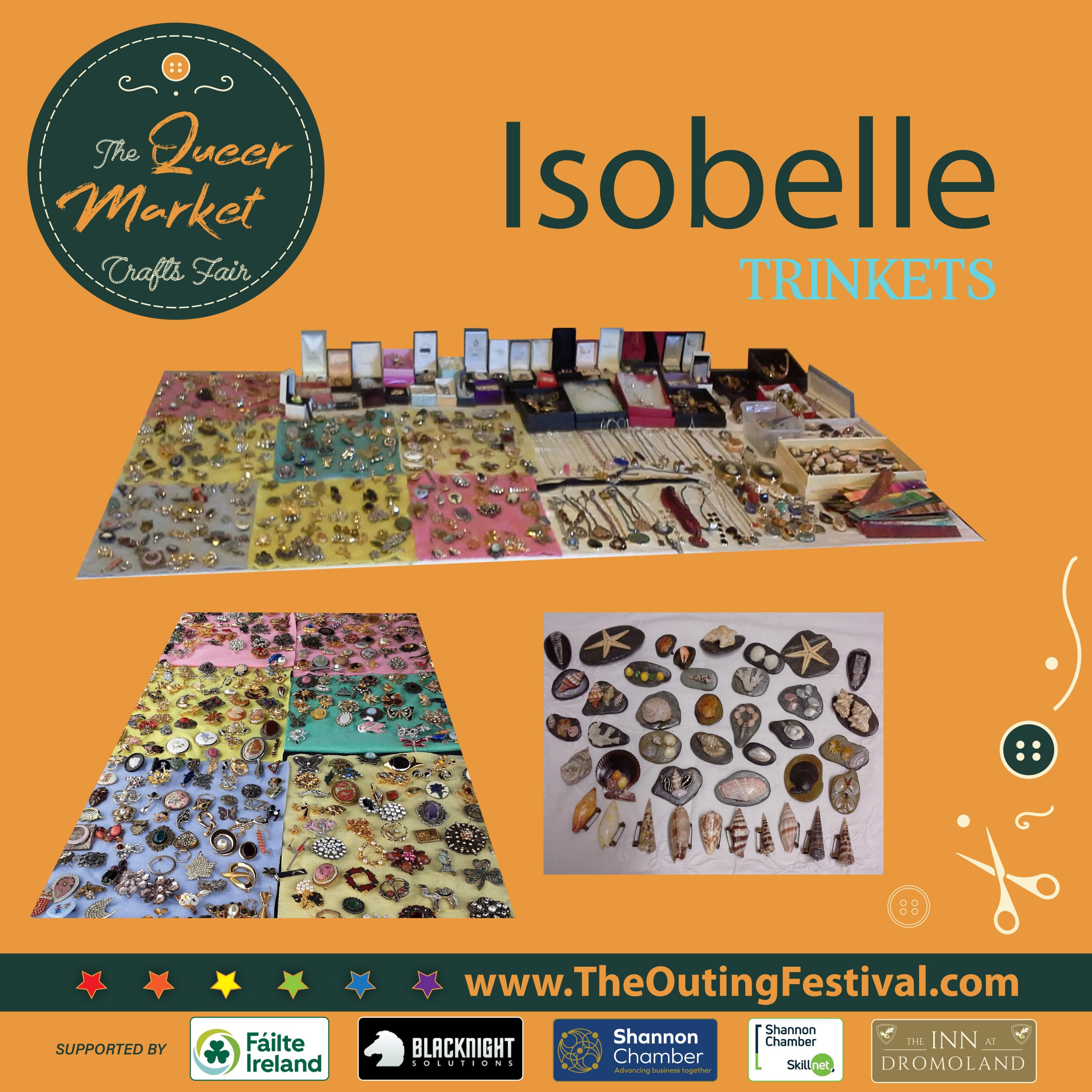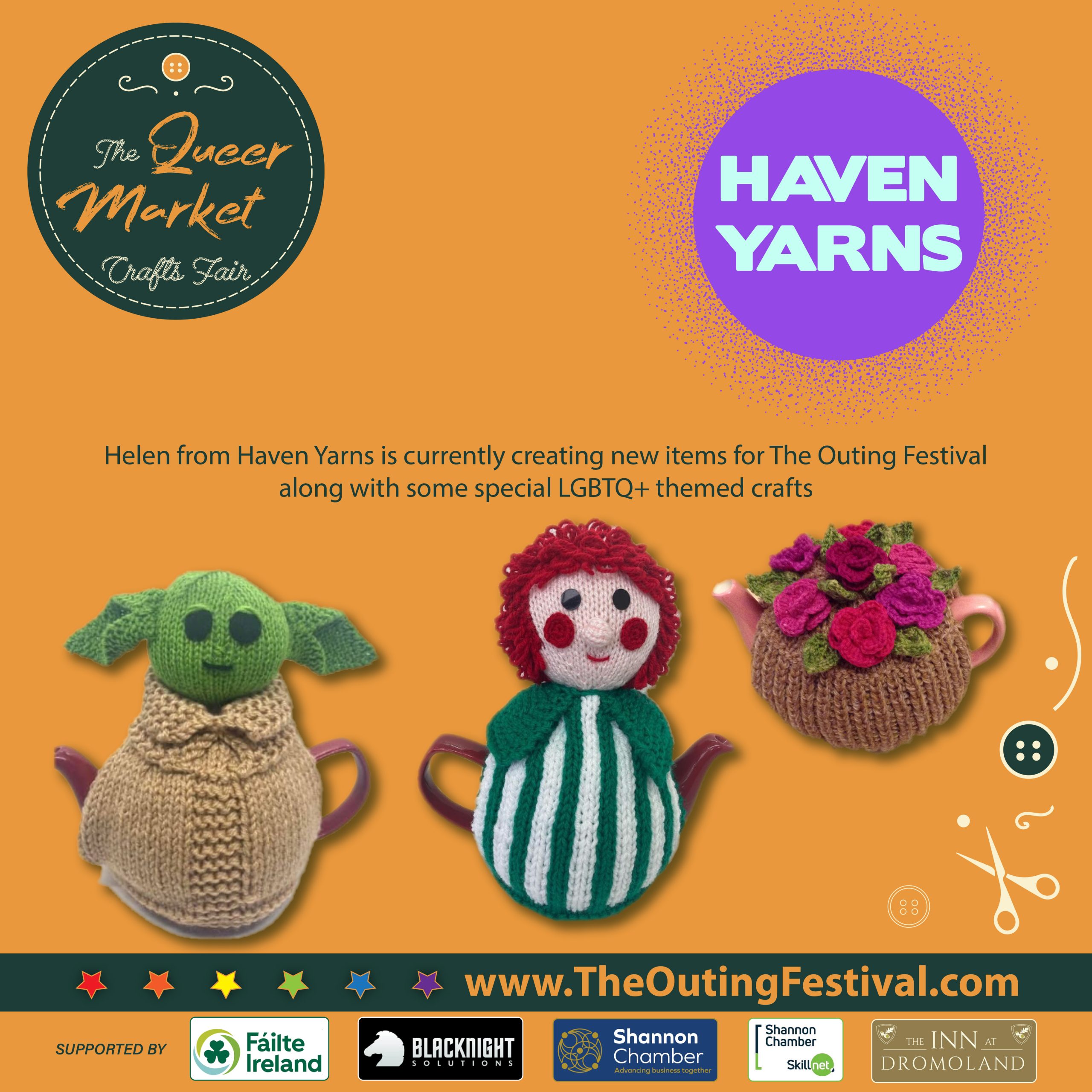 Haven Yarns
Helen from Haven Yarns is currently creating new items for The Outing Festival along with some special LGBTQ+-themed crafts.
Giulia Coli – ARTIST
Born in Italy, now living in Ireland, she completely changed her field to mechanical engineering. Out of love she moved to Ireland where nature and above all the cows stole her heart. The call of art cannot be ignored for long so she has returned to the brush. She uses acrylics on recycled canvases, the stretch is repetitive and for her it is like a meditation. The purpose of my paintings is to steal a smile when people look at them, art has to be fun!''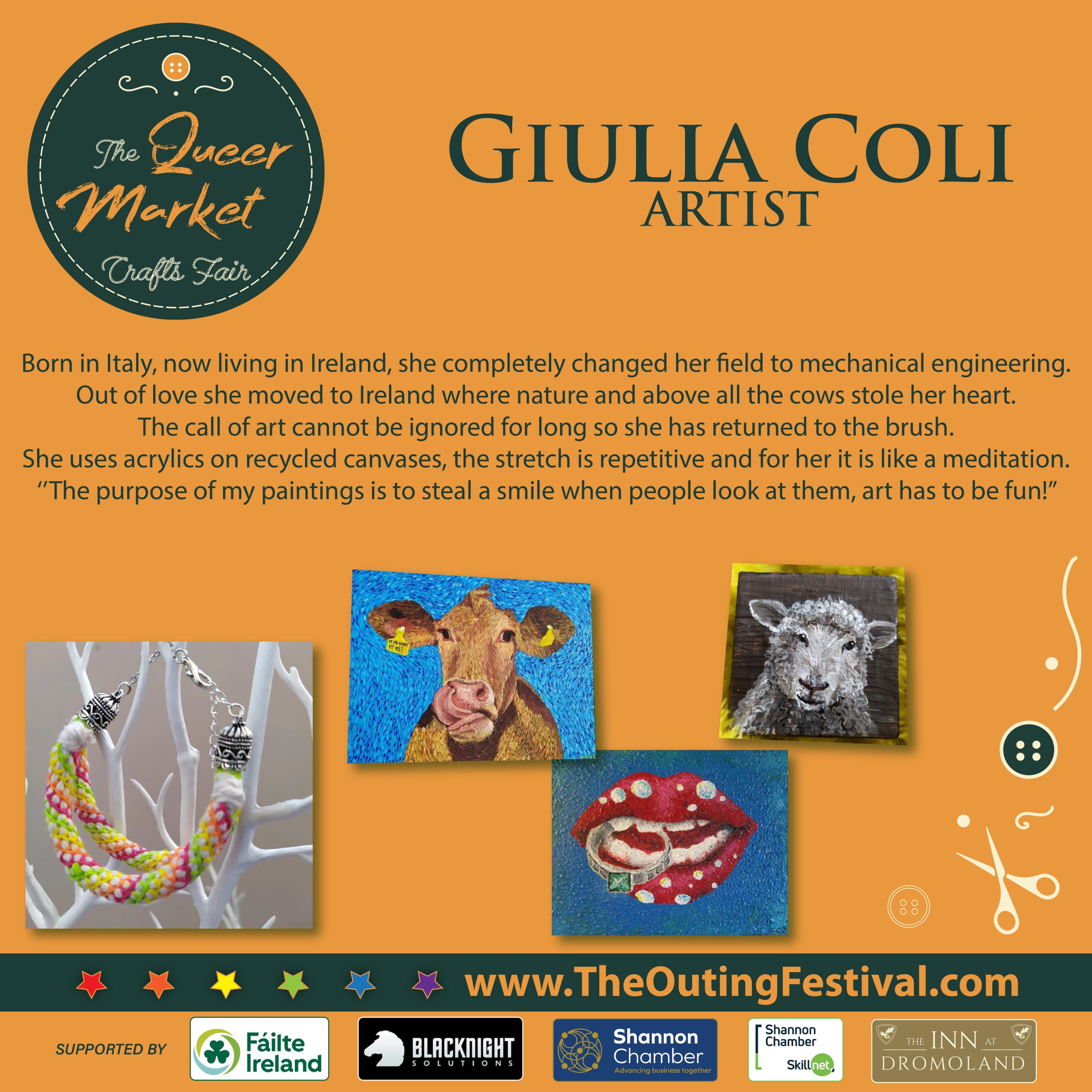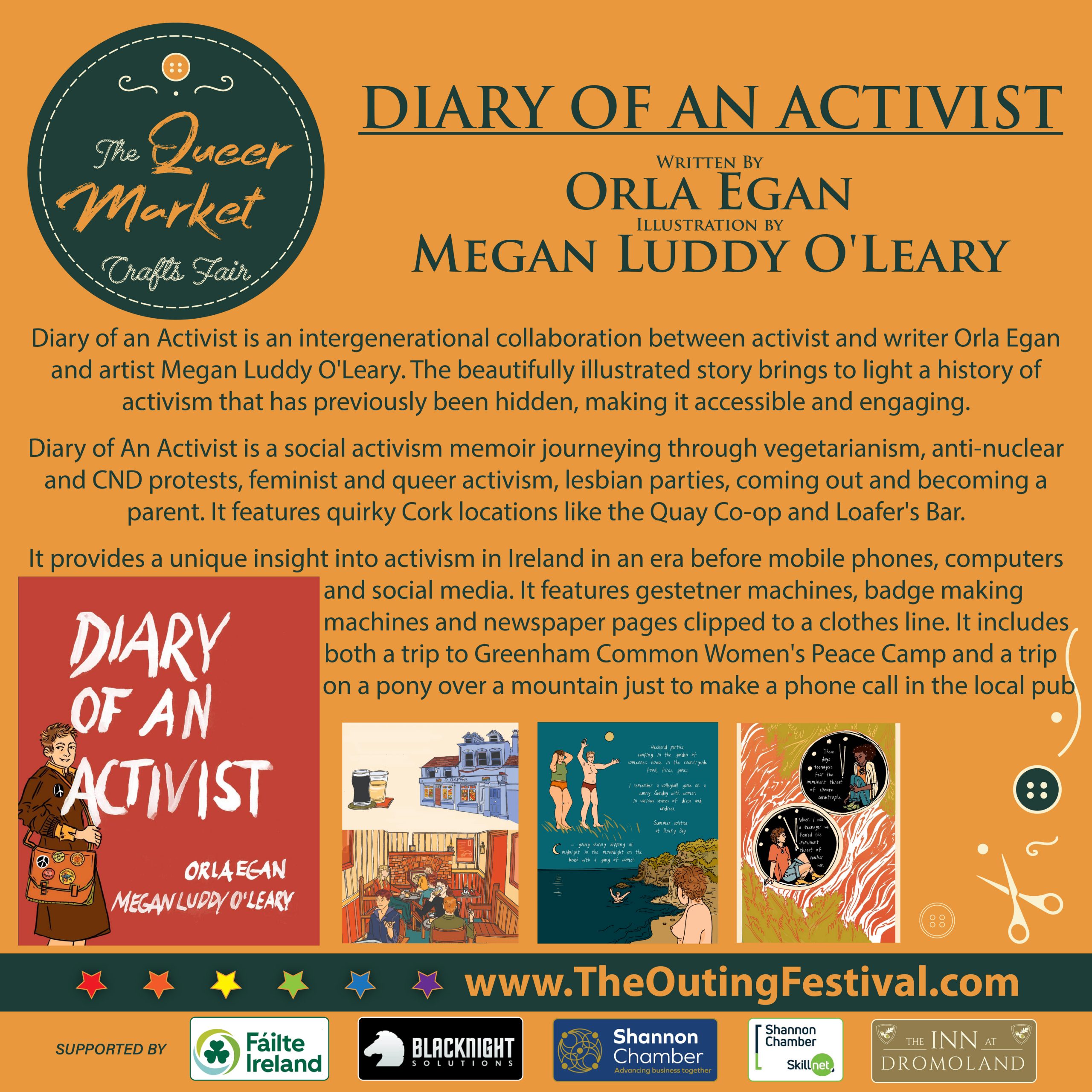 Diary of an Activist by Orla Egan
Diary of an Activist is an intergenerational collaboration between activist and writer Orla Egan and artist Megan Luddy O'Leary. The beautifully illustrated story brings to light a history of activism that has previously been hidden, making it accessible and engaging. Diary of An Activist is a social activism memoir journeying through vegetarianism, anti-nuclear and CND protests, feminist and queer activism, lesbian parties, coming out and becoming a parent. It features quirky Cork locations like the Quay Co-op and Loafer's Bar. It provides a unique insight into activism in Ireland in an era before mobile phones, computers and social media. It features gestetner machines, badge making machines and newspaper pages clipped to a clothes line. It includes both a trip to Greenham Common Women's Peace Camp and a trip on a pony over a mountain just to make a phone call in the local pub.
50 Shades of Wool
Two sisters who turned their love for crochet into a business.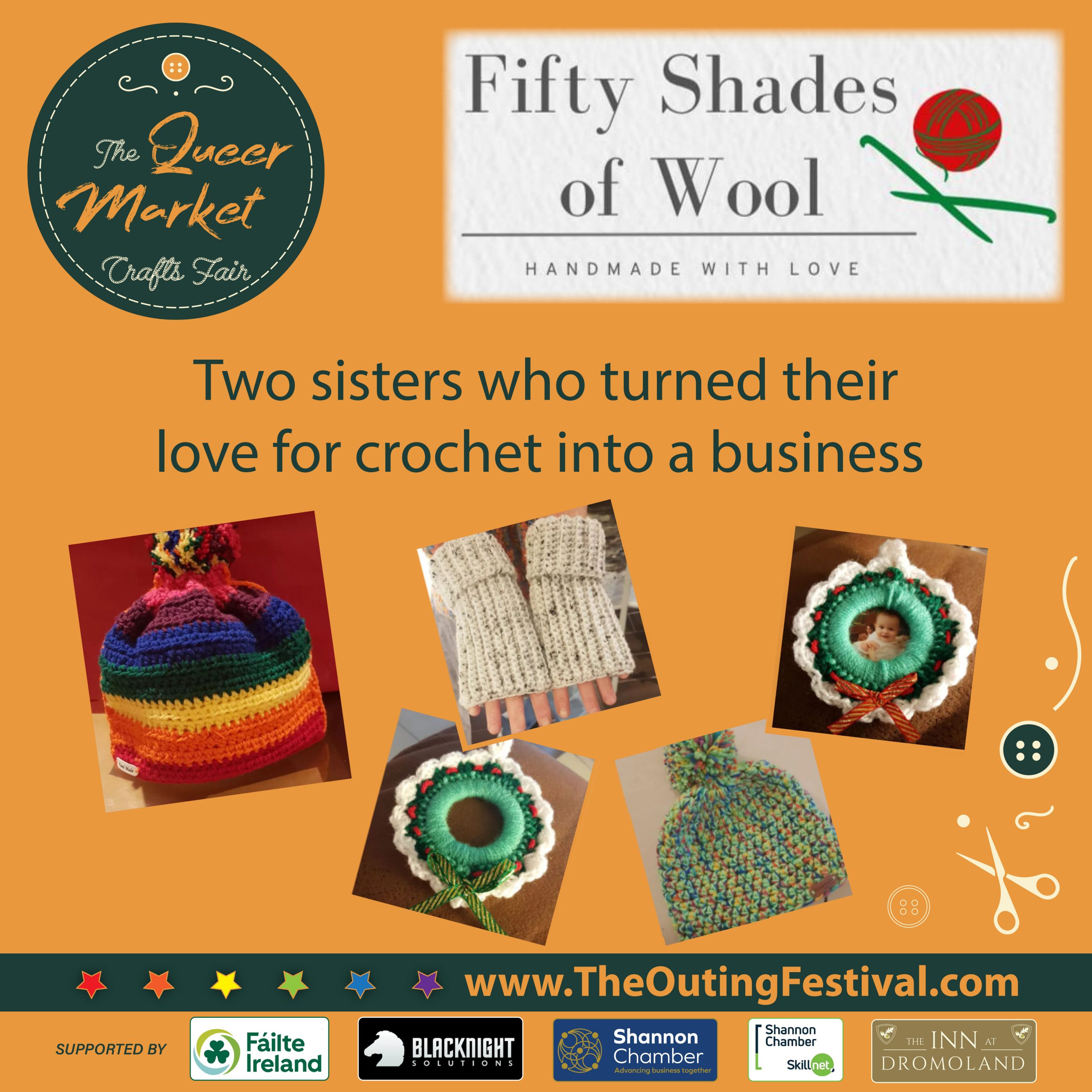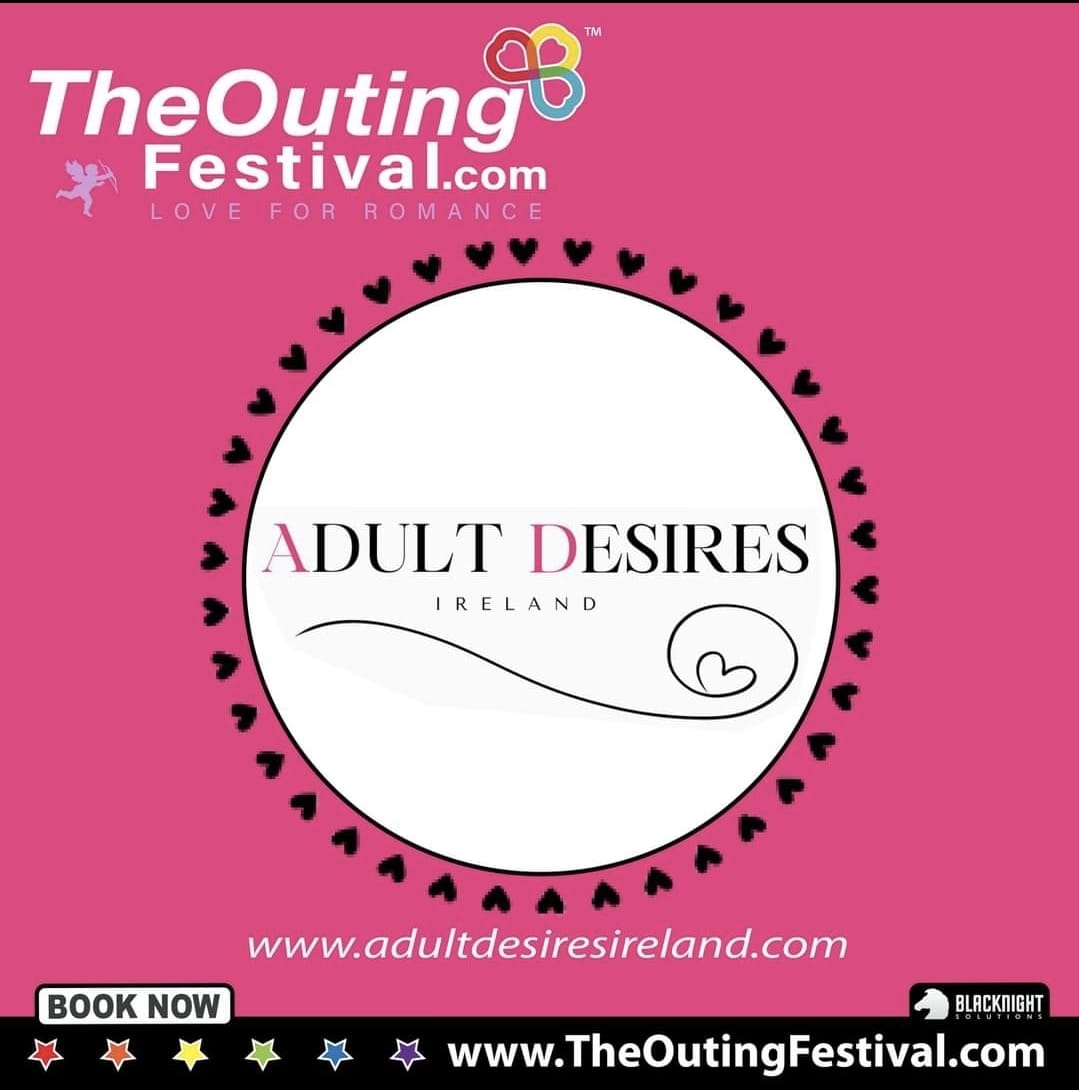 Adult Desires Ireland
This will tickle your fancy 
….
New to 
The Outing Festival
on Valentine's Weekend 2023 
 is 
Adult Desires Ireland
. Their fabulous team will bring their shop to the Festival in 2023 with a vast range of products to satisfy all your needs.
'Preeva'
"Preeva have been trading now for nearly 15 years, in the UK, Spain and Ireland.
We specialise in Crystal, Holistic and Fashion Jewellery, trying our best to always deliver quality and style at an affordable price!"
'Queer Crafts Market'
We have a host of super amazing Crafters and Business from around Ireland lined up for you at our 'The Queer Market – Crafts Fair' at
The Outing Festival
,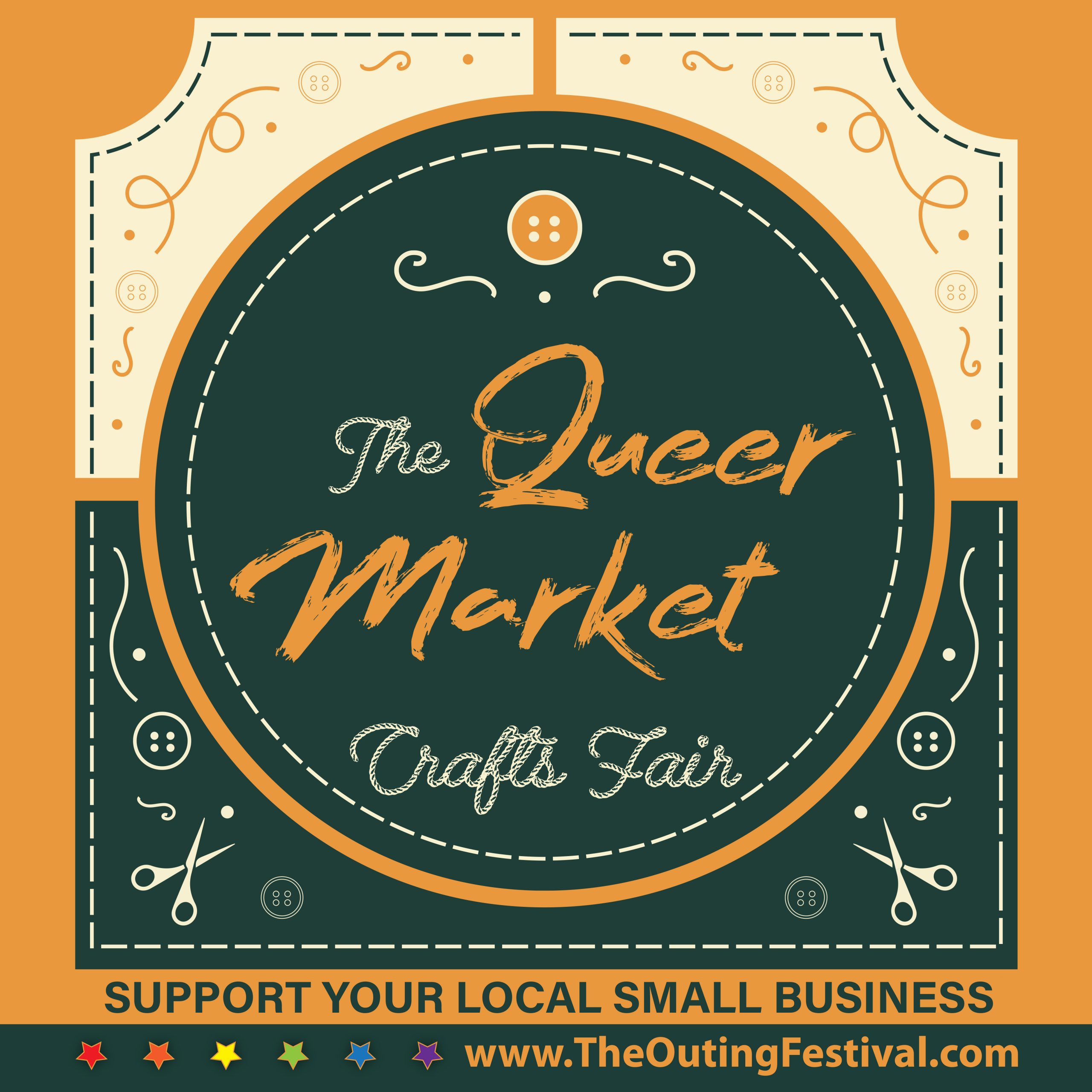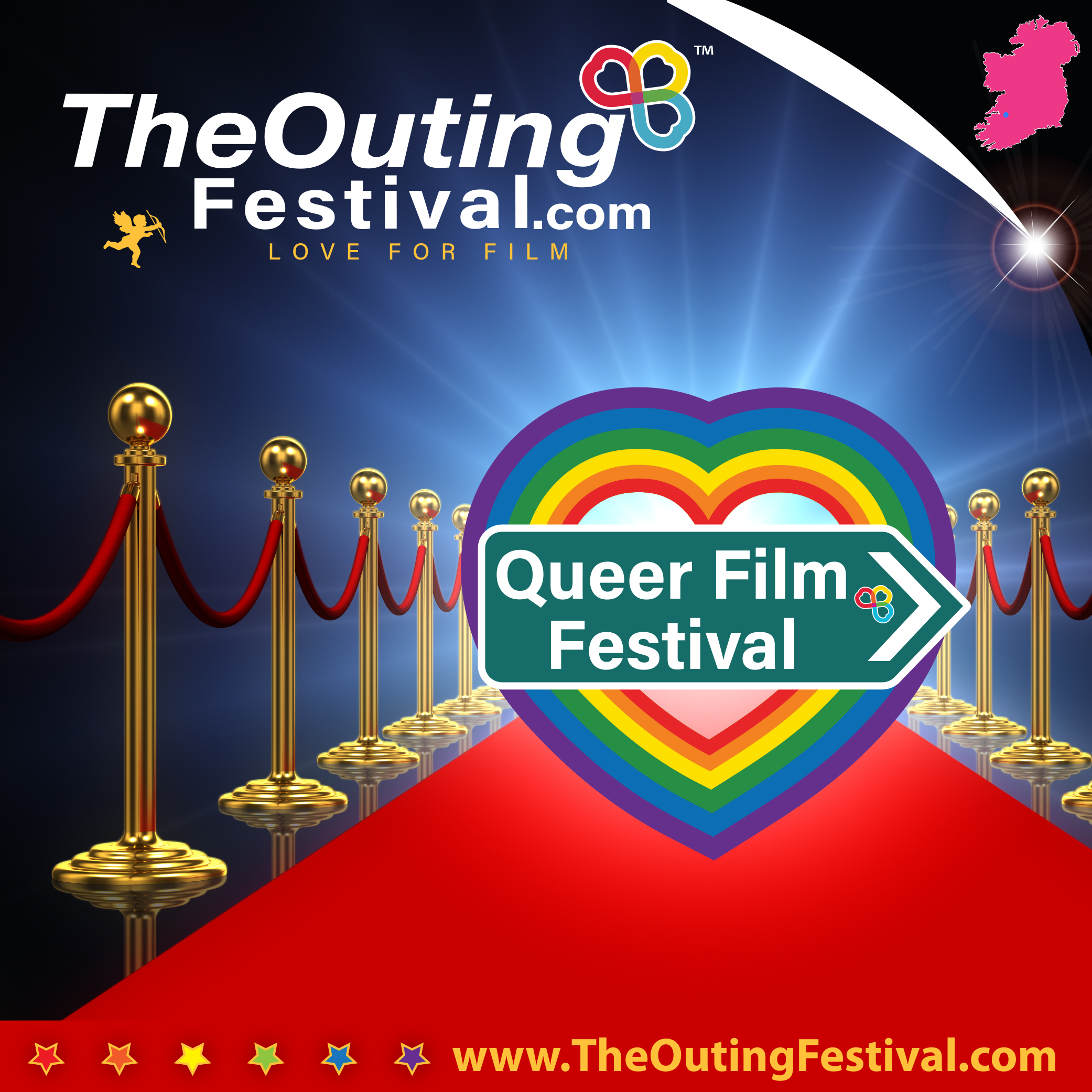 Queer Film Festival at The Outing Festival
The Outing Festival New Queer film festival is a specialized film festival that has an LGBTQ+ focus in our selection of films.
We are giving new space for awareness-raising around LGBT rights as well as for community building among queer communities. The list of LGBT+ Movies showing at our festival will be TBC. Soon.