Performers & Artists at The Outing Festival 2024   World's Only Queer Love Festival,     Get Booking Now!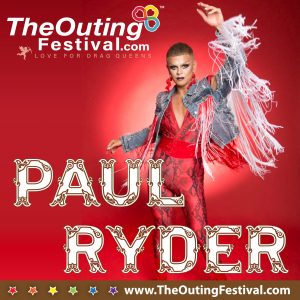 Paul Ryder
Paul Ryder is currently a host on Ireland AM at the weekends on Virgin Media and also with The Ringmasters Drag Race has been a fixture on the entertainment scene for over ten years plus.
Paul Ryder has been a performer with Dublin-based drag troupe 'DRAGGED UP' for 10 years plus now which has seen him tour the UK and Ireland with his unique live performance style. He is absolutely thrilled to be the guest host for 'The Outing festival' 2023 again now his 7th year alongside Queen of Matchmaking Eddie McGuinness also the past hosts of  Panti Bliss, Brenden Courtney  & Alan Hughes and will be off a whirlwind summer tour after hosting LGBT Pride events in Limerick, Galway, Dublin, Cork and others.

Paul says: 'I'm completely thrilled and honored to be asked to be at The Outing Festival this year. The festival has gone from strength to strength, building up a fantastic brand and exciting weekend full of activities. Roll on The Outing Festival 2023.' Click here to Watch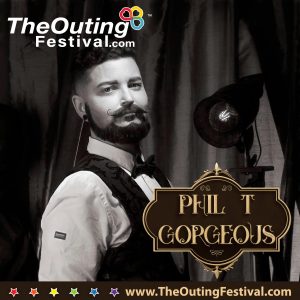 Phil T. Gorgeous
Drag king, gender illusionist, male impersonator, weirdo…. call him what you want but there's no doubt that whatever he is, he is Phil T. Gorgeous

He first swaggered across the stage in early 2004 introducing unsuspecting audiences to his own brand of drag performance and whether entertaining in the intimate surroundings of a cozy cafe, or hosting to thousands at Pride events, Phil has been happily raising eyebrows both nationally and internationally ever since.

Nowadays, he's a familiar face in several hot spots around Dublin and can be found hosting and performing in a wide variety of the country's most notable drag, burlesque and cabaret shows. On or off the mic, Phil makes it his goal to ensure that by the end of the night you're as gender-confused as he is!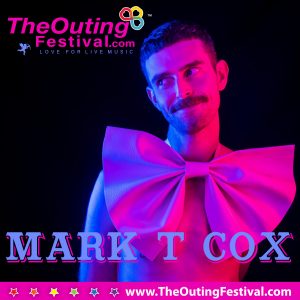 Mark T Cox
MARK T COX
Piano playing, pop song singing, big dickie-bow wearing Mark T Cox has been generously spreading himself around for years, showcasing his camp musical comedy to anyone who'll listen!

With 10 years experience on the London cabaret scene, the Clare-born star is finally coming home for one night only at The Outing Festival 2023 !

Mark is a regular in London's entertainment world, performing and curating cabaret events across infamous venues like The Glory, Dalston Superstore, Royal Vauxhall Tavern, plus a fab weekly residency at The CellarDoor piano bar.

As well as solo shows, Mark has worked with cabaret greats like David Hoyle, Jonny Woo, Drag Race legends Vinegar Strokes and Just May… plus life-long collabs with home-grown icons Xnthony and Veda Lady.

This international cabaret star has travelled the world, performing in Hong Kong, Japan, Brussels… and now, for the first time ever… Dromoland!

Except camp pop songs, West Clare charm and fabulous fashions!

Hold on as we sets sail for The Outing festival this year. Find out more here: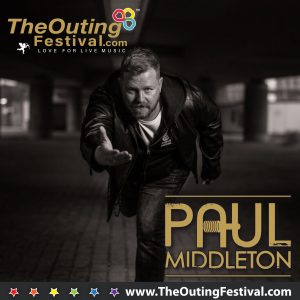 Paul Middleton
The handsome, talented and friendly Paul Middleton comes from London.

Singing since he was little, Paul came out singing onto the scene five years ago and has not looked back.

His live show covers hits from the 80s to present. He has toured the world and U.K, including: USA, Spain, Germany, Belgium and Ireland. You can see him live on stage at The Outing Festival. Check Out Him here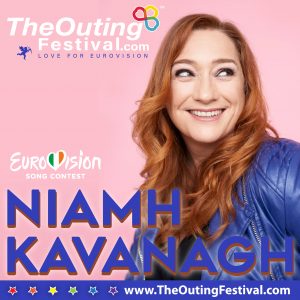 Niamh Kavanagh Returns for the 3rd time to The Outng Festival
Returning for her 3rd time in 10 Years, Niamh Kavanagh has been singing for most of her life.  Of all her guises within the music industry, Niamh is best known for her Eurovision successes, representing her country twice and winning for Ireland in 1993.  She has recorded many albums and collaborations, in particular lending her vocals to one of the best selling soundtrack albums of all time, The Commitments.

In 2019 Niamh starred as the Fairy Godmother in RTÉ Junior's official panto, took part in special TV recordings ahead of Eurovision 2020 in the Netherlands and continued to tour at home and abroad. Recent years have seen Niamh remain at the fore with her winning participation in nationwide obsession, Celebrity Masterchef, and a return appearance as a judge on Junior Eurovision on TG4, requiring a brush up on her cúpal focail Gaeilge. Prior to this, Niamh starred in the highly successful Irish tour of Menopause the Musical, as part of a four-woman cast. She also starred as the Evil Queen in a multi-year run of the highly successful Tivoli Christmas Panto in Dublin. Niamh's performance was described by reviewers as a 'show-stealer'.

Niamh retains a life-long love of live performance – her vocal talent and legendary audience rapport means she is equally at home holding court in crowded arenas as she is in intimate music venues. Niamh continues to record and is looking to the future with a number of significant projects in the works. She continues to tour and develop new shows including Date Night, a retrospective of her extensive career which was initially developed to mark the 25th anniversary of her Eurovision win. Featuring some of Niamh's favourite songs, and accompanied by guitarist Paul Megahey, an intimate evening full of gorgeous sounds interspersed with chat and craic awaits audiences. We think we can honestly say Niamh has earned her "national treasure" title!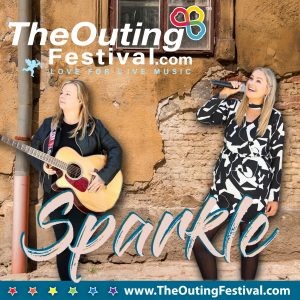 Sparkle
The duo consists of Caroline Bailey on vocals and Jen Bowler on guitar and vocals. Sparkles return to The Outing Festival for their 4th year.

The duo shot to internet fame in 2017 with their 'Couch Cover' of Ed Sheeran's Castle on the Hill which generated over 310,000 views on Facebook.

They had a write-up in the Irish Daily Mirror because of this and they also got to perform live on Corks Red FM and Corks 96fm. Since then the girls have gone from strength to strength gigging all over Ireland and uploading their weekly couch covers. They have performed in front of over 60,000 people at the Dublin LGBTQ Pride Festival & Parade and return in 2023 for another amazing show. Click Here for more info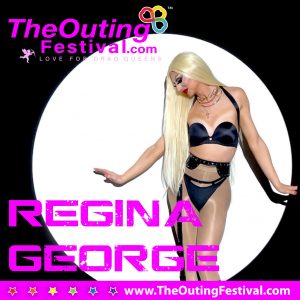 Regina George is FLAWLESS!
Regina George is FLAWLESS!

She's the Queen Bee, The Star!

Having successfully made a name for herself as Ireland's number one dancing queen, Regina George has graced stages all over the UK & Ireland as well as some unforgettable performances from The Panti Show, The Dragon & The George to name a few.

If you like high energy performances, sickening looks and something you can dance to then look no further than a Regina George show and make sure to follow @itsreginagorj on all social media.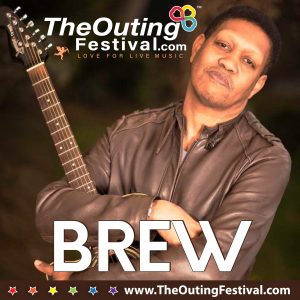 Brew
Brew from Melodic Indie Irish Rock group BLUESUN, based in Dublin, Ireland…This year Brew with be performing slow at The Outing Festival a few times over the weekend festival. Hot Press magazine reports " a great looking band with original style, BLUESUN's material has an easy-going summery feel…as a unit they gel extremely well together and the frontman is fantastic."

BREW hails from New York City and has gigged extensively within the UK, Ireland and the USA, but resides in Dublin for over 20 years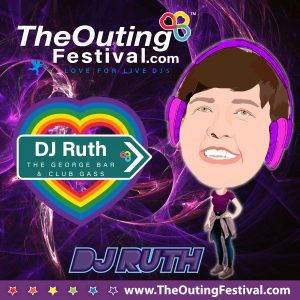 DJ Ruth on The Decks At The Outing
DJ Ruth resident DJ every Friday Night in The George Bar/Club Dublin

DJ Ruth found her passion for DJing in a little local pub in her home town of Lucan, nearly 20 years ago. Not long after she found her true home, musically and socially, on the gay scene. She quickly became a well known and very well liked part of the scene she loved. Over the years she has held long residencies in Dragon, Prhomo, Spice, Dragged Up & Glitz to name but a few.

She has also guested on many other nights around Dublin including the George, Club Tease, Profile & Kiss. Also Gass in Galway
For many years Dj Ruth has played the Dublin Pride official parties, last three years playing on the main stage in Smithfield to thousands people. (Having 12,000 people do the YMCA was a particular highlight!)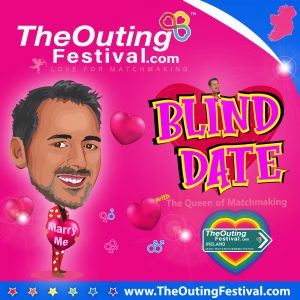 Matchmaker Eddie McGuinness
Our Matchmaker Eddie McGuinness (founder of The Outing Festival) only Gay (LGBT+) matchmaker in Ireland has decades of experience in bringing people together from Dublin LGBTQ+ Pride to other Festivals to St Patrick's Day Parade, events & Prides around Ireland aka Mr Pride, but also he holds masters in Communication and related fields. Whether you are new to being single, just out of the closet, a busy professional, or simply a great catch, we are focused on helping you find someone to share your time and life with.

Some of the key areas & events for meeting and maybe your new friend to love are "Speed Dating"  "Ice Breakers"  "Blind Dates" & even Outdoor events that allow saying hello to someone new a bit easier! You may come alone but you will leave with friends!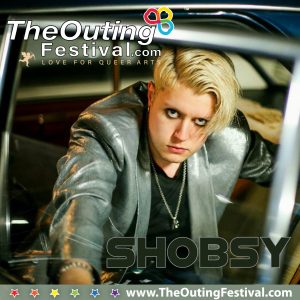 Shobsy
Shobsy

Coalescing contemporary soundscapes with classic pop melodies of the 80s, Shobsy has been hotly tipped for his compelling vocals and is rapidly becoming a leading artist to watch in Ireland.

Shobsy has released two singles 'Vanity' and 'Driven' which received support from EARMILK, PopMatters, Nialler 9, Today FM, HotPress while an appearance on Ireland's biggest TV show 'The Late Late show' clocked up over 100k views in 12 hours.

A remarkable live performer Shobsy  sold out his first two headline shows with MCD. He recently recorded a version of 'Bittersweet Symphony' with the 23 piece RTE Concert Orchestra which was one of the highlights of 'The Main Stage', Ireland's New Summer Music TV show. He was one of the Standout performers at Ireland Music Week which highlights the best new music talent coming out of Ireland.

 Formerly the lead vocalist in acclaimed rock group State Lights, the quartet soaked in success with their stadium-sized anthems, including ample appearances at both Electric Picnic and The Late Late Show. In equal measure, State Lights dominated airwaves with international airplay on KROQ in the States and Radio X in the UK.

Shobsy marries the modern-day sonics of The Weeknd with the nostalgic adrenaline rush of 80s icons like A-ha, "Record of the Day

"With powerhouse vocals that rival the enchanting beauty of Freddie Mercury and George Michael, Shobsy writes songs that send your spirits soaring" – Hot Press

 

"Multicoloured pop banger, dripping in riveting falsetto and exotic stylings" – EARMILK

 

"Ireland's Shobsy possesses a genuinely extraordinary voice, wholly unique and with a mind-blowing range" – Pop Matters

1:  Vanity (Video)

https://www.youtube.com/watch?v=FQP6grTPRLQ

2: Late Late Show Performance (Smalltown Boy)

Instagram: @shobsymusic

Twitter:@shobsymusic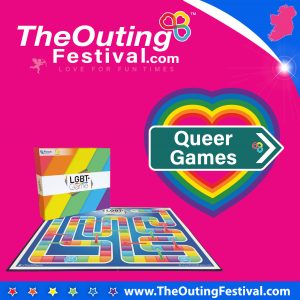 Queer Games
Join us for our Queer Sports Day in the afternoon on the grounds of Dromoland.
We'll have all the usual games and some unusual activities just slightly camped up;
· Egg & Spoon Race ( in heels)
· Relay Race
· 100m prance
· Wheelbarrow Race
· 3 Legged Race
· Tug of war
· Rounders
All are welcome to join in on the activities and fun for the Sports Day!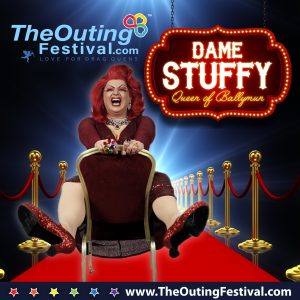 Dame Stuffy
Dame Stuffy is The alter ego of 98fm DJ Karl Dawson for the past ten years, Dame Stuffy, aka The Queen of Ballymun, is well known for her hysterical pantomime performances, stand-up shows, and her appearance on RTE's Last Singer Standing.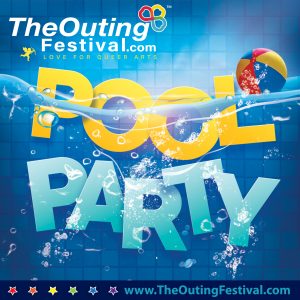 Virgin Pool Party
Virgin Pool Party

Relax with our afternoon of fun and Swim in our Swimming Pool

Inflatables, Unicorns and water sports hosted by Ms Regina George

This is a virgin pool party so is strictly an alcohol free zone. Mocktails are permitted tho!!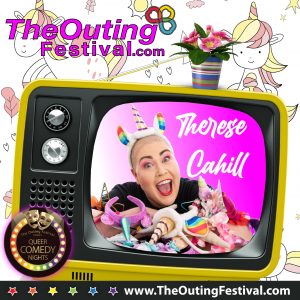 Therese Cahill
"Therese Cahill is fast becoming "squeals on wheels" as well is Ireland's first female "limp-up" comic… with more lame gags than you can shake a wheelchair at! Defined on some restraining orders as an "edgy rebel".  Aside from being a comic she is also an activist and writes parody songs to raise awareness for marginalized communities. As a disabled person, she created and funded a campaign entitled "Disrespectabled",  to highlight disabled parking abuses, complete with parody song. As a committee member, her goal will be to ensure greater access for the disabled community both online and at venues. For both participants and performers alike.

Shortlisted for  "Ireland's Got Talent 2018", she has toured with "farmer Michael and Kathleen" and is regular voice on Dublin's Q102 as well as Eastcoast FM. She also a frequent features writer  for The Beacon online. With the cheekiest of grins, she reels off songs written somewhere deep within a slightly corrupt yet (mostly) harmless mind, all done with the smile that would win over even the most hardened of psychopaths! She's the perfect mix of warmth and devilment!"
Kellie Maloney
Afternoon Tea & Chats with Kellie Maloney

Kellie is a British boxing manager and promoter who managed Lennox Lewis to the undisputed heavyweight championship of the world. In August 2014, Maloney announced publicly that she wished to be known as "Kellie" and that she was undertaking gender reassignment.

Kellie has been to The Outing Festival to find love this time it's Eddie's chance to help her find Love.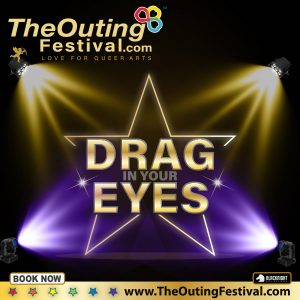 Drag in Your Eyes Hosted by Carrie Déwayy
'Drag in your Eyes' with your host Carrie Deway. Release your inner drag King or Queen and take to the stage! and let the music Play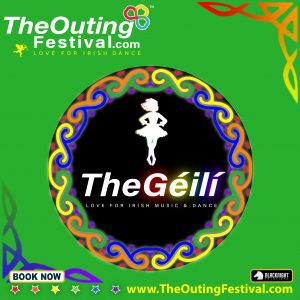 The Géilí – Music & Dance
Gay Ceili dances are back for the 10th year in a row or true ceili dances (fíor céili) are a popular form of folk dancing in Ireland and we have given it a new twist and gayed it up a touch

Irish ceili is a participatory social event attended by all and accompanied by our live Irish traditional music plus guest dancers. Start the festival off with the right foot and meet new people.

Irish CéilI is a participatory social event. Join our house Céilí band and guest dancers and start the Festival off on the right foot whilst meeting new people.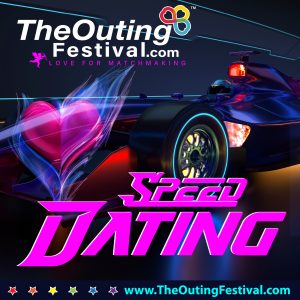 Speed Dating & Ice Breaker
All Welcome:
What is Ice Breaker/speed dating? This is an organised social activity in which people seeking romantic relationships or friendships have a series of short conversations with potential partners in order to determine whether there is mutual interest.

So why not try it while other events are going on around – you never know… you could find your new best friend or more…