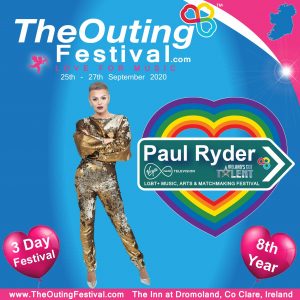 Paul Ryder
Paul Ryder is currently the host of The Ringmasters Drag Race 2020 has been a fixture on the entertainment scene for ten years.
Paul Ryder has been a performer with Dublin based drag troupe 'DRAGGED UP' for 7 years now which has seen him tour the UK and Ireland with his unique style of live performance. He is absolutely thrilled to be the guest host for 'The Outing festival' 2020 again now his 4th year along side in the past Panti Bliss, Brenden Courtney  & Alan Hughes and will just be off a whirlwind summer tour after hosting LGBT Pride events in Galway, Dublin, and Cork.

Paul says: 'I'm completely thrilled and honored to be asked to be at The Outing Festival this year. The festival has gone from strength to strength, building up a fantastic brand and exciting weekend full of activities. Roll on The Outing Festival.' Click here to Watch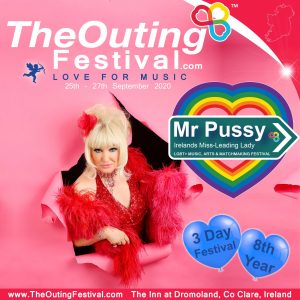 Alan Amsby aka Mr Pussy
Ireland's leading drag queen lady needs no introduction. In the world of show business for many years, she's done it all. From TV to Panto he has captivated audiences in venues throughout Ireland and overseas.

Mr. Pussy is hailed as the foundation of the booming Irish drag industry and is still known to this day for his razor-sharp wit, camp classic hits, and stunning gowns. More info Here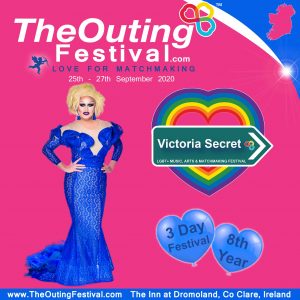 Victoria Secret
Singer/Songwriter Victoria Secret is actually none of those things but you can find her on street corners across Ireland and the UK performing to the music she neither wrote or sang.

Celebrating 16 years as Ireland's Tallest woman this year… Victoria is best known for treading the stage at The George Bar and running Europe's longest running Drag entertainment company having consistently booked International drag queens to perform in Ireland for almost 7 years.

She's also been touring extensively across the UK opening for some of the worlds most beloved Drag Queens. Hold onto your weaves as her size 12 stiletto's sets sail for The Outing festival this year. Find out more here: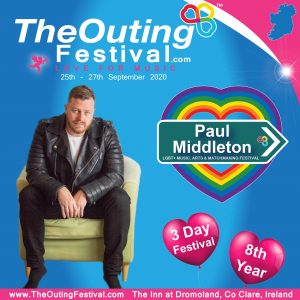 Paul Middleton
The handsome, talented and friendly Paul Middleton comes from London.

Singing since he was little, Paul came out singing onto the scene five years ago and has not looked back.

His live show covers hits from the 80s to present. He has toured the world and U.K, including: USA, Spain, Germany, Belgium and Ireland. You can see him live on stage at The Outing Festival. Check Out Him here
The Apple Blossoms
The Apple Blossoms are Ireland's freshest vintage trio, crooning the classic sounds of the 1930s, 40s, 50s, and plenty of today's hits with an old-timey, classic flair! Keri Ann, Kate, and Allison make up three-part vocal harmony trio The Apple Blossoms, each with distinct styles but with a perfect blend together.

The Apple Blossoms are Ireland's answer to The Puppini Sisters, The Andrews Sisters, and Postmodern Jukebox, but what sets these girls apart from the others is their distinct bubbly, fun, and energetic personality, sure to entertain any crowd!

So whether you want to swivel your hips to Elvis, hep step to Andrews Sisters' harmonies, relax with Etta James, or bop to Bruno Mars, The Apple Blossoms are sure to deliver!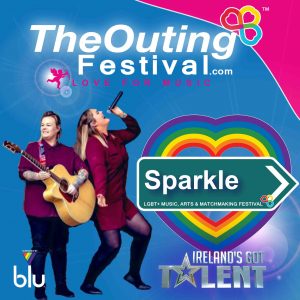 Sparkle
The duo consists of the Caroline Bailey on vocals and Jen Bowler on guitar and vocals. Sparkles return to The Outing Festival for their 3rd year.

The duo shot to internet fame in 2017 with their 'Couch Cover' of Ed Sheeran's Castle on the Hill which generated over 310,000 views on Facebook.

They had a write up in the Irish Daily Mirror because of this and they also got to perform live on Corks Red FM and Corks 96fm. Since then the girls have gone from strength to strength gigging all over Ireland and uploading their weekly couch covers. They have performed in front of over 60,000 people at Dublin LGBTQ Pride Festival & Parade and return in 2019. Click Here for more info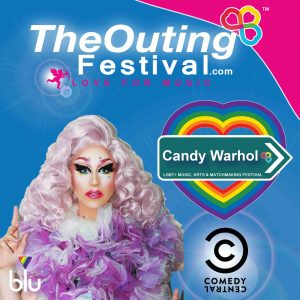 Candy Warhol Live in Full Colour at The Outing
Candy Warhol is one of Ireland's leading drag queens and now a presenter for Comedy Central UK. Hailing from Cork, Candy is the host and mother of Mockie Ah – Ireland's premier drag family.

The group has gone from strength to strength with regular sell out shows and appearances at music festivals and shows in Europe. A regular on the Irish music festival circuit, Candy performers regularly at Body & Soul, Knockanstockan, Electric Picnic, Another Love Story and It Takes A Village. Candy recently made her American debut with appearances at Rupaul's Drag Con and performances across West Hollywood and DTLA.

She was recently the host of Warsaw Pride where she led a crowd of 50,000 in Poland and is also a regular at Pride festivals across Ireland, most notably Cork and Dublin LGBTQ+ Prides. Click here to see more: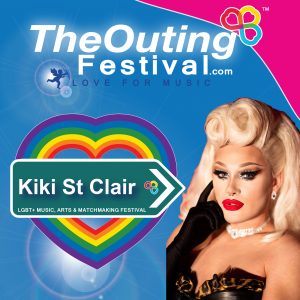 Kiki St Clair, The Queen of The West at The Outing Festival
Kiki St. Clair, the Queen of the West has been on the Galway scene for almost 7 years. She has performed in venues up and down the country and runs Galway's longest running LGBT Club Night, Club GASS.

She knows how to throw a party, turn a lip-sync and always leaves you wanting more. Click Here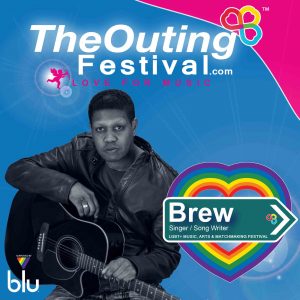 Brew
Brew from Melodic Indie Irish Rock group BLUESUN, based in Dublin, Ireland…This year Brew with be performing slow at The Outing Festival a few times over the weekend festival. Hot Press magazine reports " a great looking band with original style, BLUESUN's material has an easy-going summery feel…as a unit they gel extremely well together and the frontman is fantastic."

BREW hails from New York City and has gigged extensively within the UK, Ireland and the USA, but resides in Dublin for over 20 years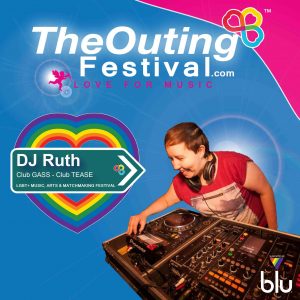 DJ Ruth on The Decks At The Outing
DJ Ruth found her passion for DJing in a little local pub in her home town of Lucan, nearly 20 years ago. Not long after she found her true home, musically and socially, on the gay scene. She quickly became a well known and very well liked part of the scene she loved. Over the years she has held long residencies in Dragon, Prhomo, Spice, Dragged Up & Glitz to name but a few.

She has also guested on many other nights around Dublin including the George, Club Tease, Profile & Kiss. Also Gass in Galway
For many years Dj Ruth has played the Dublin Pride official parties, last three years playing on the main stage in Smithfield to thousands people. (Having 12,000 people do the YMCA was a particular highlight!)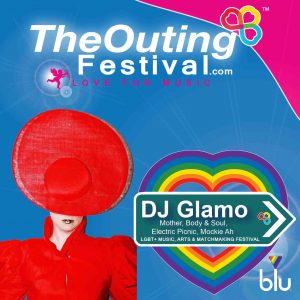 Glamo
GLAMO is one of Ireland's most notable emerging DJ acts. A regular at Mother, Body & Soul, Electric Picnic and Mockie Ah, GLAMO fuses delicious disco beats with confectionary of pop, electro, and retro delights. Also a skilled milliner,

GLAMO is always sporting a trademark avant-garde headpiece behind the decks that adds to the spectacle of her sets. Click here for more info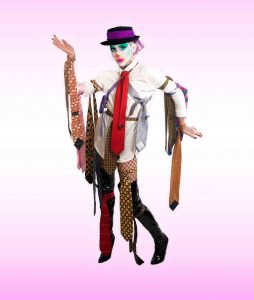 Nettles
Hailing from Cork, Nettles is a member of the Haus of Mockie Ah, Ireland's leading drag family. With Mockie Ah she has performed at numerous music festivals and sell out crowds where she is known to tear up a stage with her energetic performances.

Fusing high fashion looks with voguing and hip hop, Nettles is one to watch.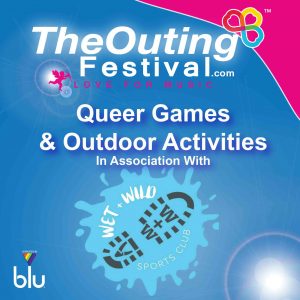 Queer Games with Wet & Wild Sports Club
Join us for our Queer Sports Day in the afternoon on the grounds of Dromoland.
We'll have all the usual and some unusual activities just slightly camped up;
· Egg & Spoon Race ( in heels)
· Relay Race
· 100m prance
· Wheelbarrow Race
· 3 Legged Race
· Tug of war
· Rounders
All are welcome to join in on the activities and fun for the Sports Day!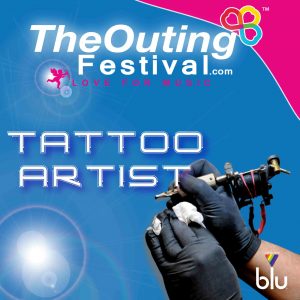 Queer Tattoo Artist
There are so many incredibly talented queer tattoo artists out there and we have an amazing one on site to get that dream tattoo you always wanted.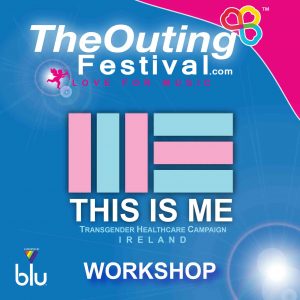 This Is Me Talk with Noah Haplin
The This Is Me – Transgender Healthcare Campaign has been working tirelessly to improve the access to, and standard of healthcare provided to transgender and non-binary people in Ireland.

This grassroots campaign begun in January 2018, with a public demonstration which saw close to 300 people attend to demand adequate, safe and best practice healthcare. We have invited Noah Halpin to come talk to you about this campaign and what is next that needs to be done. Come ask him in person all what you need to know. Find out more Here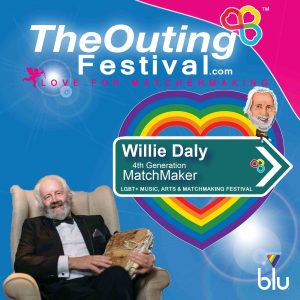 WILLIE DALY – LISDOONVARNA MATCHMAKER
Fourth-generation Matchmaker, Willie Daly, has the gift that made Lisdoonvarna famous for over 150 years as the place to find love. Willie's was ready last year to add some LGBT couples to his famously enormous book of matched names and he did it with Panti by his side.

Willie will be on-hand all weekend for you to meet and chat with.
"Matchmaking has always been about love"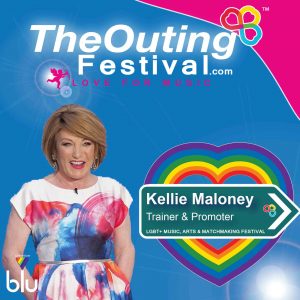 Kellie Maloney
Afternoon Tea & Chats with Kellie Maloney

Kellie is a British boxing manager and promoter who managed Lennox Lewis to the undisputed heavyweight championship of the world. In August 2014, Maloney announced publicly that she wished to be known as "Kellie" and that she was undertaking gender reassignment.

Kellie has been to The Outing Festival to find love this time it's Eddie's chance to help her find Love.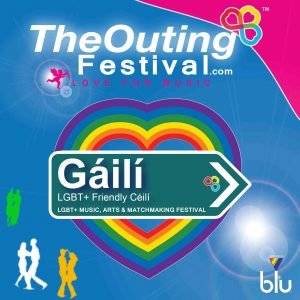 Ceilé Band & Dancing
Gay Ceili dances are back for the 7th year in a row or true ceili dances (fíor céili) are a popular form of folk dancing in Ireland and we have given it a twist and gay it up.

These dances form the basis for an examination of Ceili dance teachers. Irish ceili is a participatory social event attended by both men and women and accompanied by our live Irish traditional music plus guest dancers. Start the festival off with the right foot and meet new people.