The Outing Festival Team, Board Members, Volunteers
The Outing Festival CLG. is LGBT+ Not-for-Profit Organisation.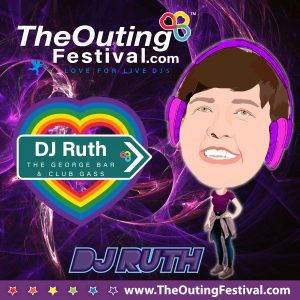 Ruth Dignam Head of Production (Chairperson The Outing Festival CLG)
Ruth is head of Production and content of The Outing Festival and volunteers at The Outing Festival since before 2015.
DJ Ruth found her passion for DJing in a little local pub in her home town of Lucan, nearly 20 years ago. Not long after she found her true home, musically and socially, on the gay scene. She quickly became a well known and very well-liked part of the scene she loved. Over the years she has held long residencies in Dragon, Pro-homo, Spice, Dragged Up & Glitz to name but a few.
She has also guested on many other nights around Dublin including the George, Club Tease, Profile & Kiss. Also Gass in Galway
For many years Dj Ruth has played the Dublin Pride official parties, last three years playing on the main stage to thousands of people. (Having 15,000 plus people do the YMCA was a particular highlight!)
Festival Director and Founder Eddie McGuinness
Eddie McGuinness draw's on considerable experience in PR, Marketing to promotion and event management for over 30 plus years. Eddie help come up with a new idea and festival 2012 in the west of Ireland once in the home of matchmaking in the village Lisdoonvarna Co.Clare and The Outing Festival was born plus making it new Pride style event and then moved the whole festival to a new location on the grounds of Dromoland Castle at the Inn at Dromoland on 450 acres of wooded countryside.
Eddie is Dublin LGBTQ + Pride Festival & Parade Manager since 2017; a multi-faceted celebration attracting the participation of 120,000+ people and now Ireland's largest LGBT + Pride Festival.
Eddie has also designed and hosted highly
publicised
LGBT+ events, including "Club Tease" award-winning gay club to Award-winning Magazine 'free! Magazine', which similarly fused gay culture and traditional Ireland garnering national media coverage.
Eddie love is matchmaking and that is not just about bring people together but Queer Arts, Music and diversity of Love.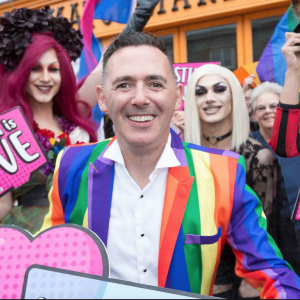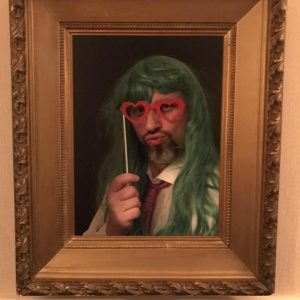 Frank Cleary Co-Festival Director (Secretary  The Outing Festival CLG &  Director)
Frank was a previous Festival Chair of Dublin LGBTQ Pride Festival & Parade. Coordinated many of the Dublin Pride events for a number of years from Parade and Post Parade show, to Pride Night, Dyke Night, Launch events,
etc
.
Frank has been involved with The Outing Festival for the beginning, helping to plan and run the festival.
Frank is big into Music, Musical Theatre, Eurovision (obsessed actually), Entertainment, Travel, Culture, and all-around lover of having a good time! Excited for The Outing festival as it moves into its new venue and continues to grow in popularity! He is the backbone of the festival.
Paul Ryder Head of Creative Production (Director  The Outing Festival CLG)
Paul Ryder is one of the key creative team members alongside Eddie & Ruth putting together the main stage and other areas of the ever-changing festival.
His sparkle helps bring that style and passion to the main stage.
Paul is currently the host of The Ringmasters Drag Race 2021 has been a fixture on the entertainment scene for over ten years.
Paul Ryder has been a performer with Dublin based drag troupe 'DRAGGED UP' for 8 years now which has seen him tour the UK and Ireland with his unique style of live performance. He is absolutely thrilled to be the guest host for 'The Outing festival' 2021 again now his 5th year alongside in the past
Panti Bliss
, 
Brenden Courtney
  & 
Alan Hughes
with Eddie McGuinness by his side, and will just be off a whirlwind summer tour after hosting LGBT Pride events in Galway, Dublin, and Cork.
Darragh Downes Volunteer & Events Co-ordinator (Director  The Outing Festival CLG.)
"Darragh helped to organise Sligo Pride Festival as co-chair of the Festival Events team during 2020 and was a key member of the Pride team 2019 for Sligo Pride Comeback festival.
This year again Darragh stepped in as volunteer & events coordinator at The Outing Festival as we develop the festival over the next few years and is one of the backbone members of The Outing Festival team. His energy never stops!
Darragh has now moved to Shannon Co.Clare to study Hotel Management which helps build volunteers on the ground in Co.Clare the home of The Outing Festival.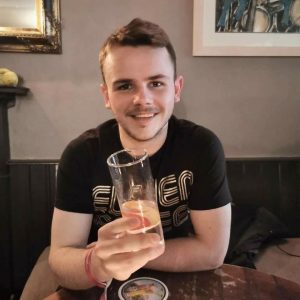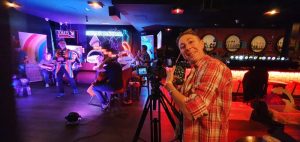 Fiona Thompson Head of  Video Production (Board member The Outing Festival CLG)
Fiona has a Masters in Documentary Practice from the University of Ulster. Freelance Camerawoman/Editor – She has an extensive portfolio of work, shooting for a wide range of clients covering documentaries, corporate, magazine features, press kits, live events, charity and community projects, performance art, music promos. A Broadcast Technician with Royal Caribbean Cruise line directing, producing, shooting, and editing of feature-length, short formats, commercial, documentary-style for onboard television. Her TV credits include TG4 Ireland, MTV, MTV Italy, MTV Africa and NRK in Norway, Horse and Country TV and Cruise TV. She specializes in all equestrian disciplines. The camerawork has taken her all over the world both on land and underwater.
Every year since 2014 Fiona has help digitalized The Outing Festival so we could show the word on out Youtube channel and social media.
Brew Mbirika Singer-songwriter & artist Co-ordinator (Board Member The Outing Festival CLG.)
"Brew brings diversity and unique talent of combining his rock edge and heavily melodic pop-rock songs to uplift a variety of audiences.
Brew's love for the arts has crossed paths in the theatre world and he has taken to screenwriting in his spare time and now wants to bring this to The Outing Festival.
To add variety to the Outing Festival entertainment lineup Brew can bring a singer-songwriter element whom audiences all agreed was an equally surprising and welcomed change that they would look forward to in future Festivals.
Brew has now over the years is one of the key creative members of The Outing Festival team.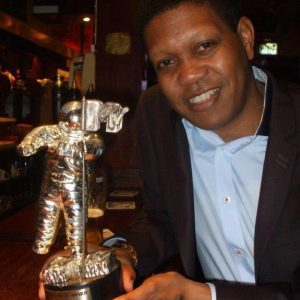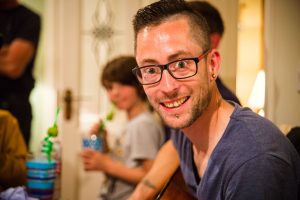 Gary Duffy Volunteer Member Head of Graphic Design & Social Media plus Stage Prop & Design.
Gary from Knot Normal Crafts is a multi talented Craftsperson & Designer in the construction and staging sectors. Over the years He has designed and crafted stage props for numerous Pride stages as well as The Outing Festival stages. To add to this, Gary is also the Graphic Designer for The Outing Festival. He has worked with other Prides around the country with their graphics also…. it's always handy to have a #GayCraftsMan in your life!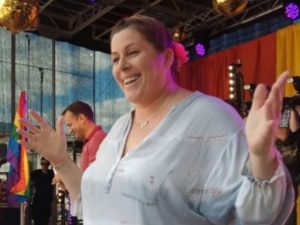 Vannessa Connell (Board member The Outing Festival CLG)
Volunteer at The Outing Festival and volunteers
ISL/English Interpreter work well with people not machines bit of a technophobe.
Vannessa has been on the main stage at Dublin Pride as ISL/English Interpreter for over 10 years. This year she was the Grand Marshal for Dublin Pride on behalf of all Front Line Workers as she was face & sign for deaf community on behalf of HSE.
Daithí Naughton, Volunteer & Events Co-ordinator (Board Member The Outing Festival CLG) 
Daithí Naughton 
organised
 the Dublin LGBTQ Pride Festival, Chaired the Festival committee, Events Management and Communications Communicating between the Board of Directors and the operational committees and teams. Daithí also key member out LGBT Society in DIT Dublin and 
organised
 all of their key events while at college there.
Daithí this year again stepped in as events coordinator as we develop the festival over the next few years and is one of the backbone members of The Outing festival team since year one in 2013.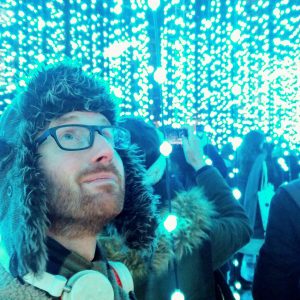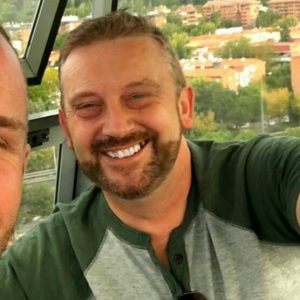 Thomas Maher (Board member The Outing Festival CLG)
Thomas has been a key volunteer at The Outing Festival since the beginning years ago and no job is too big or too small for him to do.
Thomas has looked after the door of the Festival wherewith is style and control has helped build the festival to where it is to date.
Thomas has worked alongside Eddie for decades at festivals, Pride's, Club nights and over the years.
Monika Earner, Netherlands & Germany  Marketing/Volunteer Co-ordinator at The Outing Festival CLG 
Monika Earner has a wealth of experience working in the community organization both in Ireland and Internationally. She is currently based in the Netherlands and is closely involved with the LGBTQ (COC) organization.
She volunteers for charities involved in supporting LGBTQ identifying refugees, helping them to negotiate their way through the legal processes.
She is the chairperson of Almaclaudia Productions an opera-in-education company with a strong focus on equality and inclusivity.
Promoting The Outing Festival in the Netherlands is her current task, however, featuring an aspect of The Outing Festival in the Netherlands and Europe is a strong ambition.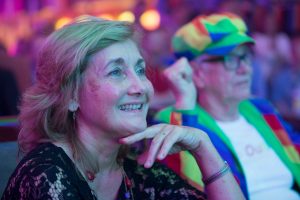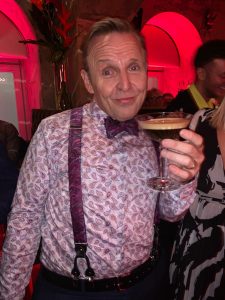 Ian Goudie European Representative for The Outing Festival volunteer member.
Ian experienced and accomplished leader with extensive experience in business, marketing and community management, looking to expand my involvement in LGBT+ Pride events in Europe.
Extensive experience in managing and directing large-scale entertainment events and promotions, including Pride festivals, promotional tours and nightclub events.
EuroPride Vienna 2019, Ian found himself once again at the forefront of the community. "I am so pleased to be able to help bring EuroPride 2019 to Vienna," says Ian. "Throughout my life, I've always fought for that feeling of inclusion for all the LGBTIQ community.
Over the years his help to get the message out about The Outing Festival on the ground goes away above and beyond as a volunteer.
Jen Bowler, Volunteer & Artist Co-ordinator at The Outing Festival CLG 
Jen Bowler is based in East Cork. She is the guitarist and backing vocalist for the band Sparkle. Sparkle is an original and cover band with songs on Spotify and all major music platforms. They also performed on Irelands got Talent 2019.
Over the years she has performed at multiple pride's and pride events such as Dublin, Cork and Limerick pride, The Outing Festival, Dublin Winter Pride to name a few.
She has shared the stage with amazing performers over the years and has also performed with Sparkle at Electric Picnic the last 3 years in a row.
She would love to introduce new acts to The Outing Festival and she would love to encourage more of the Lgbt+ community to take part in this fun-filled, unforgettable weekend. It's one of the best gigs of the year and she looks forward to taking part In the festival for years to come making it bigger and better than ever before.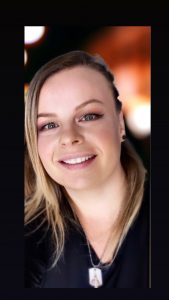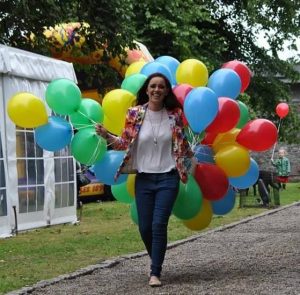 Lisa Daly Event Co-ordinator volunteer member at The Outing Festival CLG
Lisa is the Festival Director and chairperson of Limerick Pride, which she first got involved within 2013. She is a Limerick native who brings with her lots of experience such as being an Event Coordinator, Tv and Film and business to name a few. She has been a part of many successful events while also helping raise funding for local and national charities.
She is also involved with the Special Olympics and is a Suicide Prevention Officer with the Haven Hub Limerick.
She has a great passion to see successful events happen in the west of the country and has helped with promoting The Outing Festival over the years.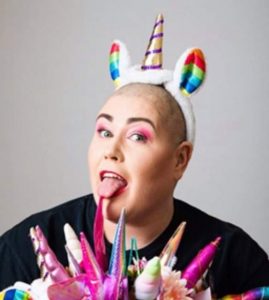 Therese Cahill volunteer member & looks after areas for the disabled community at The Outing Festival CLG
"Therese Cahill is fast becoming "squeals on
wheels
" as well as Ireland's first female "limp-up" comic… with more lame gags than you can shake a wheelchair at! Defined on some restraining orders as an "edgy rebel".  Aside from being a comic she is also an activist and writes parody songs to raise awareness for marginalized communities. As a disabled person, she created and funded a campaign entitled "Disrespectabled",  to highlight disabled parking abuses, complete with a parody song.
As a volunteer committee member, her goal will be to ensure greater access for
the
disabled community both online and at venues where The Outing Festival is at.
For both participants and performers alike.
Shortlisted for  "Ireland's Got Talent 2018", she has toured with "farmer Micheal and Kathleen" and is a regular voice on Dublin's Q102 as well as EastcoastFM. She also a frequent features writer for The Beacon online. With the cheekiest of grins, she reels off songs written somewhere deep within a slightly corrupt yet (mostly) harmless mind, all done with the smile that would win over even the most hardened of psychopaths! She's the perfect mix of warmth and devilment!"
Over the years they have performed and help to get the message out about The Outing Festival on the ground goes away above and beyond as a volunteer.
Lance Vn, Volunteer & videography and Droning Co-ordinator at The Outing Festival CLG 
Lance was introduced to the Outing Festival in 2018 and hosted a hike along the cliffs and Moher in 2018.
In 2019 he hosted a hike through the wonders of West Ireland's woodlands, offering his unique and quirky insights into local myths and legends. Depending on the weather he also has a habit of bursting into song with the right word. Lance can also be seen running around the Outing Festival with his camera and drone, capturing every opportunity for a good story.
Lance works as a Digital Media Executive for one of Ireland's leading law firms and is a part-time video journalist for GCN magazine. He contributes writings to GCN and The Circular. He freelances in videography and Droning; having earned a pilots licence from the IAA in 2020.
https://www.lance.ie/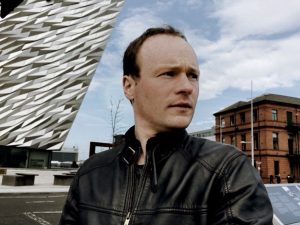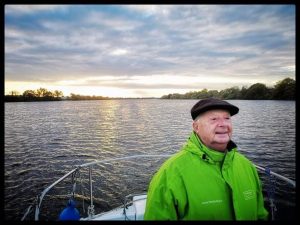 Jim Lawless  volunteer member at The Outing Festival CLG
Jim has been a key volunteer at The Outing Festival since the beginning years ago when he came as a punter and fell in love with the festival way back then and no job is too big or too small for him as he goes on tour with The Outing Festival at other Pride's around Ireland.
Over the years his help to get the message out about The Outing Festival on the ground goes away above and beyond as a volunteer.
https://www.dandyslighting.com/