Matchmaking at The Outing Festival in The Inn at Dromoland
Lesbian, Gay, bi or Trans & Queer Matchmaking at The Outing Festival was founded to fulfil a tremendous need for an effective, dignified, and professional way for quality LGBTQ+ singles or couples & Friends to meet, talk, interact and even date in Ireland and beyond.
The Outing Festival started back as an idea in 2002 but found its home in 2013 at the home of Matchmaking in Lisdoonvarna Co. Clare in the west of Ireland that now over nine years ago. Not only do our matchmaker Eddie McGuinness only LGBTQ+ matchmaker in Ireland has over decades of experience in bringing people together, but also he holds masters in Communication and related fields. Whether you are new to being single, just out of the closet, a busy professional, or simply a great catch, we are focused on helping you find someone to share your time and life with.
'Love & Friendship' at this World Famous Gay (LGBT+) Matchmaking & Music Festival 'The Outing' returns for three Day Festival on Valentines Weekend 9th-11th February 2024. Now going in its Tenth plus year's, the ever fast growing offshoot of the historical matchmaking festival in Lisdoonvarna is back and bigger than ever. We have moved to a new home at Inn at Dromoland on the grounds of Dromoland Castle with lots going on and off-site with Irish and International stars, LGBT+ singer-songwriters to pop-up clubs, drag performances, comedy, live music, Film & Arts Festival and interactive events, it's a guaranteed craic-filled weekend away on Ireland's stunning west coast.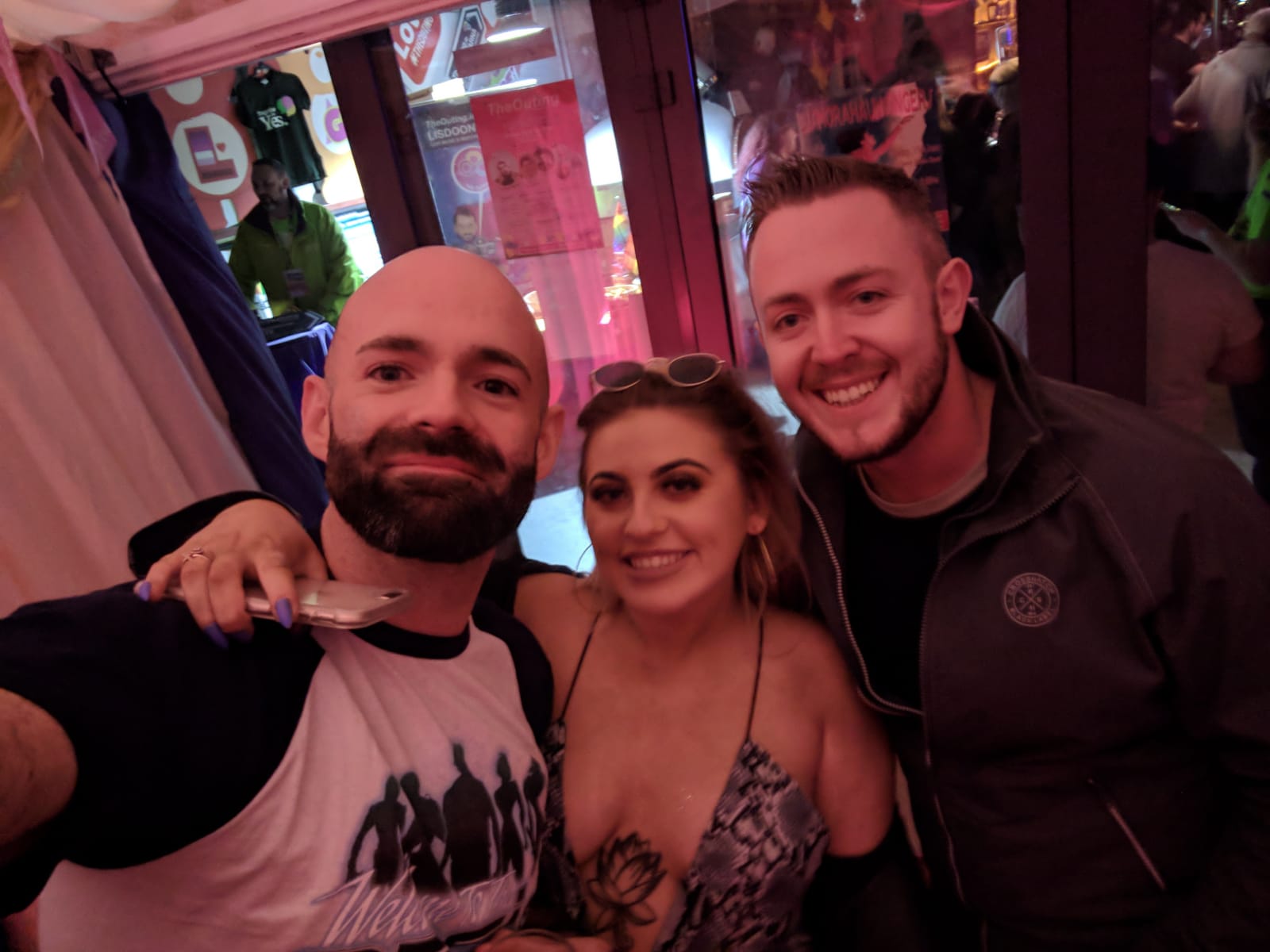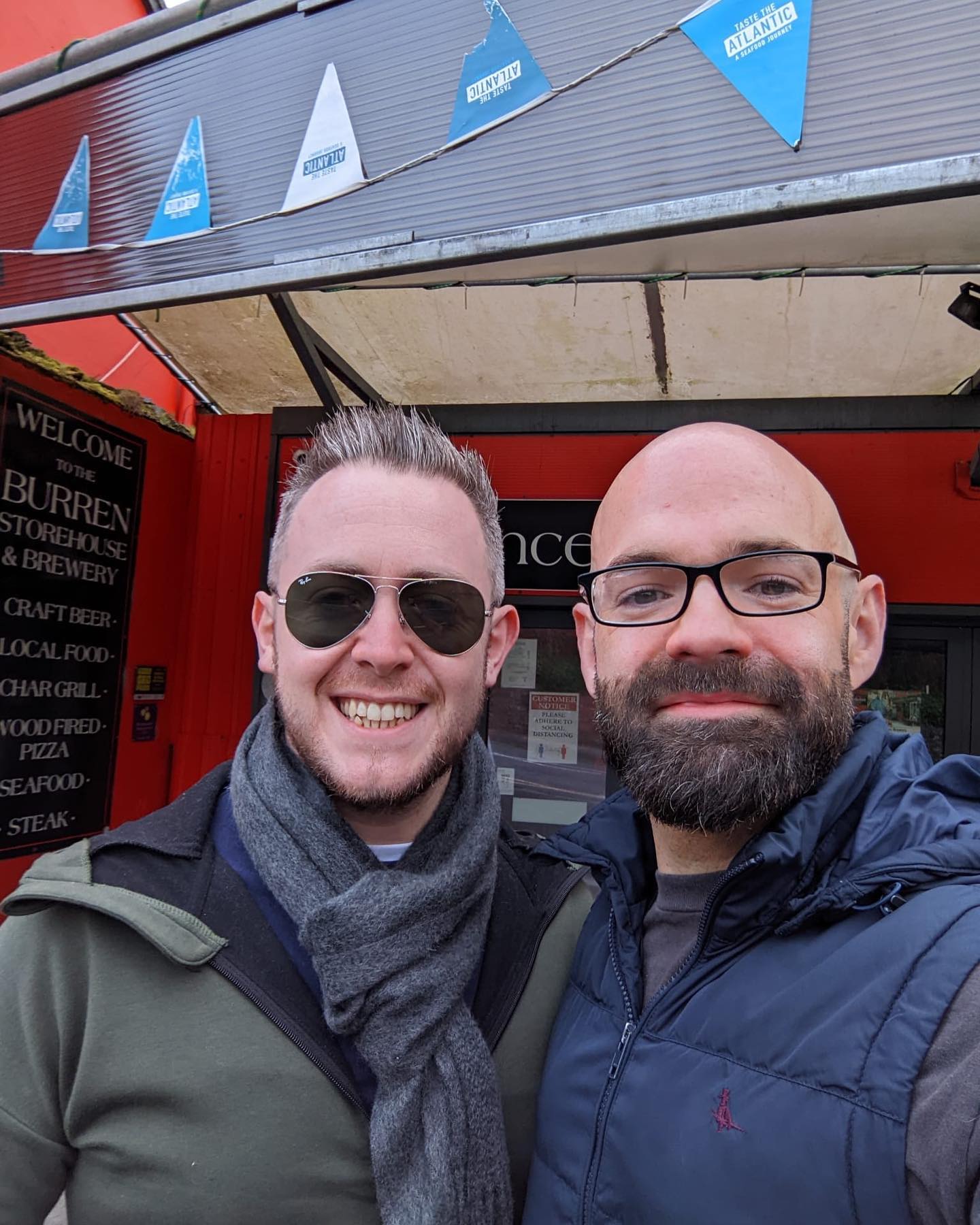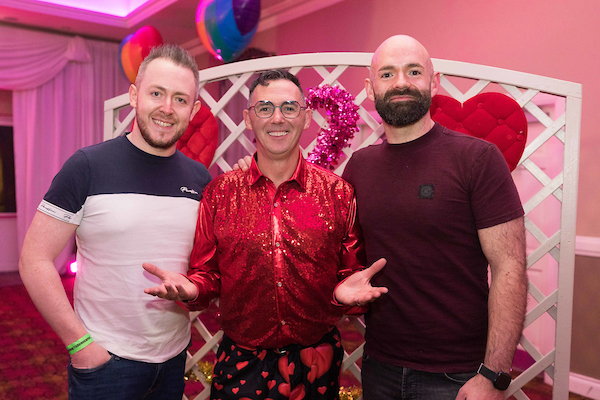 2nd Wedding from The Outing Festival with Aidan & 

Ronan
The story of Aidan & 
Ronan
is a bit of a chance meeting – or some might say fate. Others would blame Eddie McGuinness the 'Queen of Matchmaking'.
Ronan
 had planned on heading west with the wet & wild lads to go surfing for the weekend while Aidan had plans of flying to Toronto for a few days. A last minute hiccup meant Aidan didn't head away and was at a loose end. In an effort to improve the mood at home, Aidan's good friend Dave was heading to the Outing and dragged Aidan along. Aidan had planned to go down on the Friday night & head back Saturday morning, not really having any interest in going. It was in the Burren Storehouse in Lisdoonvarna where both were to meet for the first time. Aidan has spotted 
Ronan
 at the bar while 
Ronan
 was looking for any excuse to get chatting to Aidan. When 
Ronan
 spotted Aidan heading out for some fresh air, 
Ronan
 soon followed and that's where they first met. Both got more than they bargained for that weekend and that's where their love story began. A weekend of romance ensued and 4 years later they found themselves back in the same spot of the Outing Festival where a proposal was made and they were engaged.
Roll on Friday 28th July 2024 and Aidan & Ronan became Mr & Mr with their wedding and on hand our Matchmaker was their to watch a Love Story come to life on their Wedding Day.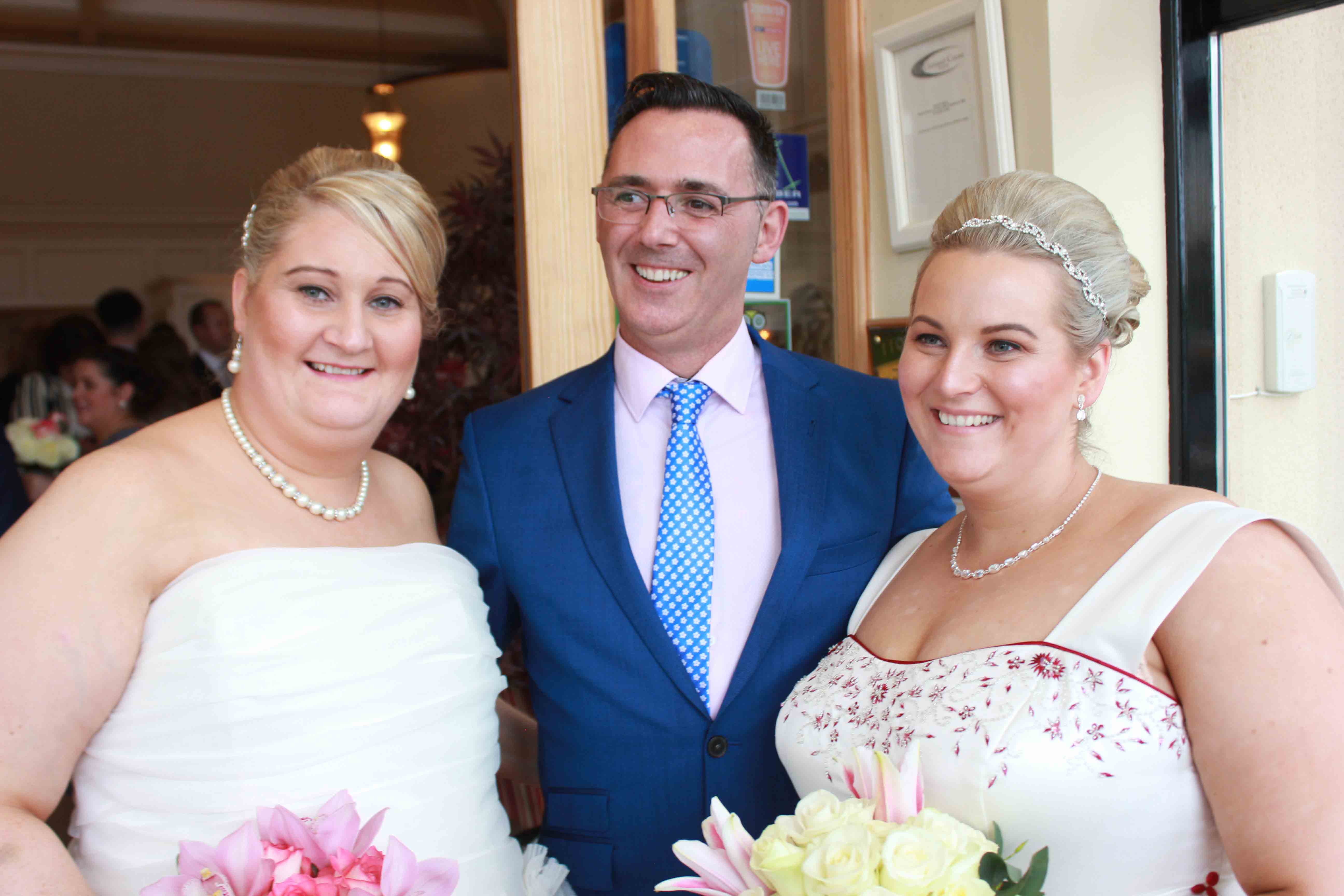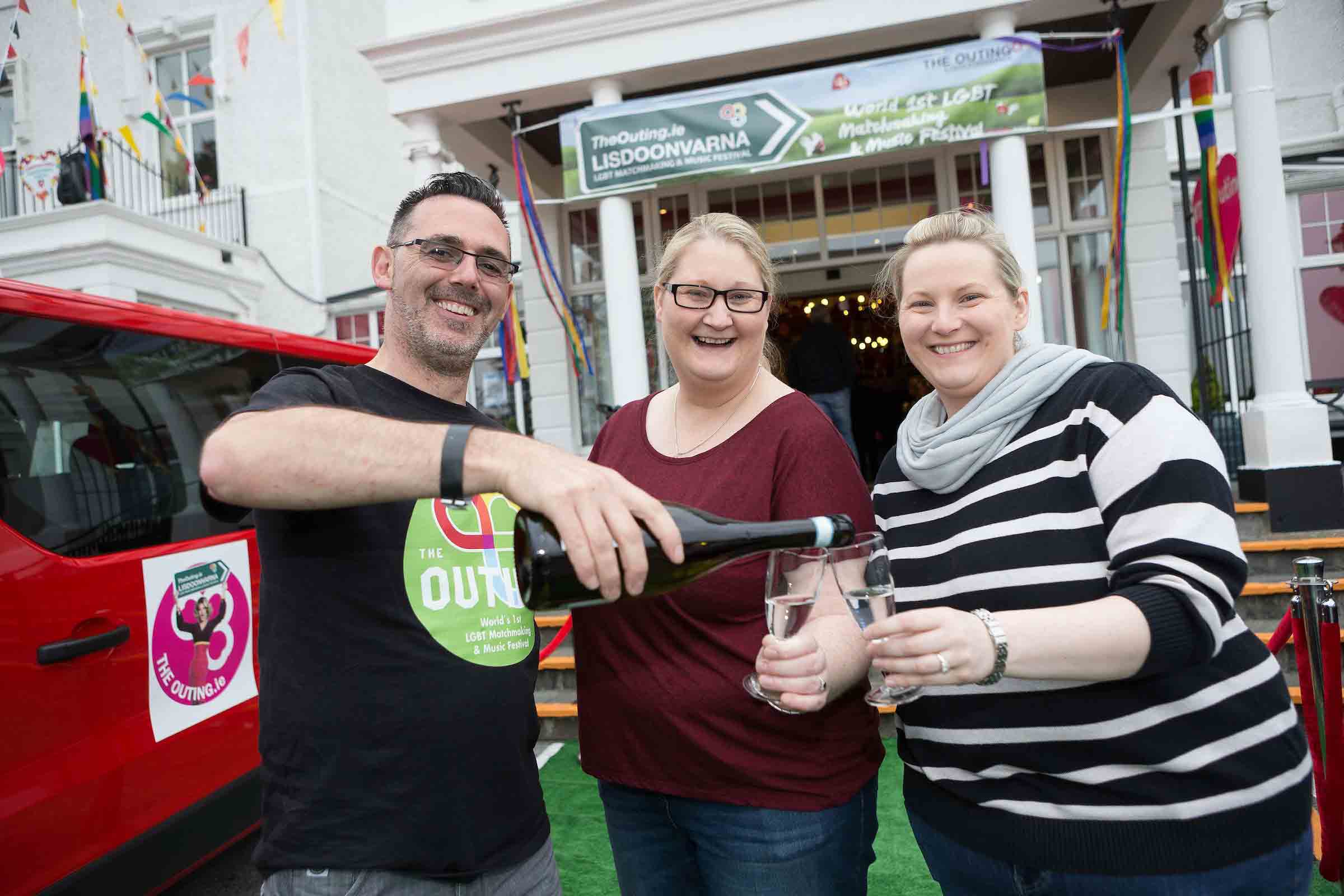 The Outing Festival First Wedding of Christina Procter and Amy Gavin interview with Eddie McGuinness at The Outing Festival LGBT Music & Matchmaking Festival Co. Clare Ireland, October 7th – 9th 2016.
This interview tells the story of how the two ladies meet at The Outing and shows their wedding at the end in 2016. The Outing was in its fourth year, the fast growing offshoot of the historical matchmaking festival is back and bigger than ever. With pop-up clubs, drag performances, comedy, live music, arts , literary/Film Festival (GAZE) and interactive events, it's a guaranteed craic-filled weekend away on Ireland's stunning west coast of Ireland on The Wild Atlantic Way.
Click here 
Some of the key areas or events for meeting your new friend to love we have "Speed Dating" to "Ice Breakers" to "Blind Dates" to even sporting events that allow saying to someone new without feeling alone or different. We have even afternoon tea where you can sit and chat to board games you never know you might get someone to play along with you!
Matchmaking at The Outing Festival has a keen understanding of needs within the gay (LGBT+) community. When you join us at The Outing Festival Matchmaking is at the heart of what we do, there is no question that you will receive the highest level of friendship with our team.
You are not alone at this matchmaking festival we are all here to enjoy ourselves plus meet new people. "Your Not Only Gay in This Village"
To date, The Outing Festival has had its 1st wedding meeting at the matchmaking festival in year two and over a few years ago getting married with Eddie McGuinness on hand at their wedding too.
Also with hundreds of friendships & relationships starting there too.
See you all this year even if it's your 1st time or you have been a few times we always have something new in store
"It's All About Love"